Captain-in-waiting rates above Lochore, Shelford and Brooke.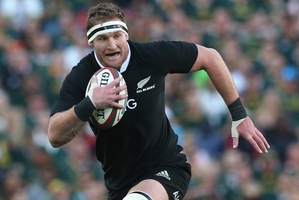 Who knows if we've just witnessed the best rugby test ever, as some are apparently claiming, but I reckon Kieran Read is our finest No 8, period. And that is not a call to make lightly.
Brian Lochore, Wayne Shelford and Zinzan Brooke form a mightily impressive line of excellence to follow, but Read does more than that.
His still growing leadership influence matches Lochore, he has the power and authority of Buck plus the skills of Zinny. The Cantabrian wonder has got it all and these various attributes came together in the toughest of cauldrons, Ellis Park, in a magnificent test match against South Africa. Read stood head and shoulders above the rest.
PLAYER RATINGS: PERFECT 10 FOR READ
There are far too many test matches for these ageing brain cells to remember, let alone sort into order. Events from the 70s reappear more clearly than those of the past 30 years or so - there is a recognised memory situation going on in that regard, but there were also a lot fewer tests in those childhood days.
Top tests are subjective by results anyway - South African fans will be less enthusiastic about yesterday's match and the major World Cup showdowns have to hold more weight.
Yesterday's epic in Johannesburg was undoubtedly among the finest though, propelled by a pulsating start and carried along by many exceptional moments. As in all modern rugby matches, stoppages and replacements took a toll, although not a heavy one in this case.
Read, the captain-in-waiting, never missed a beat. The man is an absolute marvel, and with a World Cup medal in the drawer, this game elevates him to a place where he can be anointed as the All Black No 8 supreme. His raw-boned athleticism is vastly superior to his predecessors, as is his impact across so many areas.
When Read first appeared in the black jersey, there were still a few doubts over his handling abilities, but while his skills may not be as obvious or celebrated as Brooke's, he operates in a far tougher environment and uses what he has judiciously. While we used to marvel at Steve McDowall's running and passing or Brooke's kicking, many forwards do that sort of stuff these days. Lock Sam Whitelock put in a superb kick at Ellis Park, one that would have made headlines 40 years ago.
What the Ellis Park test showed is that ball-playing back-rowers, especially those who can operate as wide centres, are the key to breaking rugby shackles. They have the height and strength to hold off the tackler while releasing a teammate, whereas the actual centres - like Conrad Smith - are smaller and can work like mini-loose forwards. Positions are not defined in their traditional ways any more.
Two South African tries were provided thus by their loosies, while Read produced a superb backhanded release on the fringes. But he did so much more including a heap of tackles (and no misses I think) in a hectic game where others were not nearly so perfect, and a magnificent run for a try when he had every right to be exhausted. His overall running and lineout work was just as strong.
Picking test greats is as subjective as ranking test matches of course, although there are fewer candidates which makes it easier. But hey, it's a lot of fun, and for me Read is now No 1. He's also a tremendous and humble character. You'd be safe as houses running into him down a back alley, but not on the footy field.
Williams' wavering
Boy, am I sick of that arrogant Sonny Bill Williams. The way the Kiwi selectors have had to so publicly suck up to him is vomit inducing.
Here we are, a day away from naming the World Cup squad, and he still hadn't had the decency to inform them (and the supporters of course) on his availability at last reports over the weekend. From what can be made out, the Kiwis can't even deal with the man himself, and must check with his manager. What a load of bollocks.
I've wavered on SBW during his controversial sporting career - from being infuriated by the way he treated the Bulldogs and Kiwis in 2008 (a World Cup year when he walked out on the Kiwis) to admiring what he brought to rugby and his amazing league skills.
Remember also that he skipped the rugby World Cup victory parade, his bucket list medal on that occasion owing plenty to others like Richie "Broken Foot" McCaw and precious little to SBW's own commitment to rugby that year.
I keep reading what a good bloke he is, but action speaks louder than words. His treatment of the Kiwis is a disgrace. What would the public say, for instance, if Ma'a Nonu tried something similar to the All Black selectors. There is no reason why SBW couldn't have told the Kiwis his plans a long time ago. He owed the national team that common courtesy. His attitude is an insult to the Kiwi jersey and the sport which gave him his start.