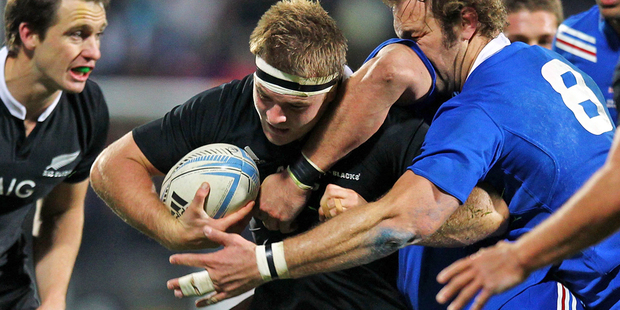 Tracey Nelson crunches the numbers from the All Blacks 24-9 win over France at New Plymouth.
Yet again this week Sam Cane was the All Black forward with the highest work rate, being one of the first three players to the breakdown on 33 occasions and making four carries for a gain of 16 metres. He was also the third highest tackler for the All Blacks with seven, three assists and no misses.
Luke Romano had a busy night winning four lineouts, making nine carries for a gain of 43 metres, eight tackles and seven assists, and was in the first three to the breakdown 25 times - second in ruck arrivals only behind Cane and Owen Franks (26).
For those unsure as to whether Victor Vito was on the field, he made eight carries for 36 metres gained, seven tackles and three assists, and was in the first three to the breakdown 21 times.
The All Blacks made 75 tackles and 41 assists in this test match, missing only nine in total.
They made 39 of those tackles in the first half, with 14 of them made in their own 22. In the second half they only had to make one tackle behind their 22m line.
Sam Whitelock was the top tackler for the All Blacks with nine and five assists. Romano and Dan Carter missed the most tackles (two each), but Carter was the best tackler amongst the All Black backs with five tackles and two assists.
France had to make 136 tackles, and missed 18. Captain Thierry Dusautoir's 16 tackles made him the top tackler in the match, while opensider Antonie Claassen made 12.
Discipline was good for the All Blacks with just seven penalties conceded, and none coming at the breakdown. However, they did concede three scrum penalties including one on their own feed.
France conceded nine penalties, six of which were at the tackle/breakdown. Their lock Yohann Maestri also conceded the only yellow card of the series for an alleged headbutt 10 minutes from the end of the game.
Handling errors were high for the All Blacks this week, with 12 knock-ons and two forward passes. Kieran Read had an uncharacteristically bad night with his hands with a total of three knock-ons, while Israel Dagg and Conrad Smith both managed two each.
France tidied up their set piece from the previous week, winning all of their 14 lineouts and 12 scrums. The All Blacks lost one of their 11 lineout throws and one of their five scrum feeds.
The All Blacks fared better at the breakdown this week, losing possession at just one ruck and one tackle situation. France lost three rucks, with the ball spilling out the side twice while on the other occasion the All Blacks won the counter-ruck.