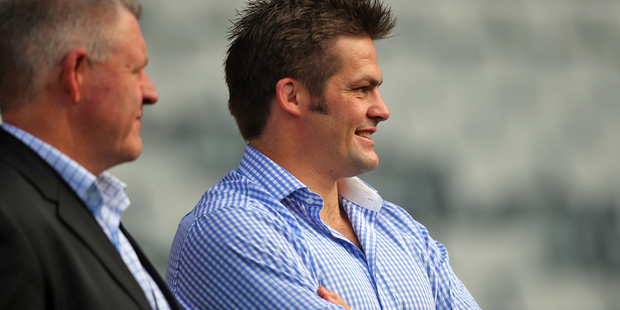 A little corner of suburban Christchurch could experience a busier than usual Saturday in three weeks following Richie McCaw's announcement today that he will return to rugby via his club before playing for the Crusaders.
All Blacks and Crusaders captain McCaw last turned out for his club Christchurch in 2009 following a knee injury, a match against Lincoln University which attracted a crowd of at least 2000 to the sidelines. Many went on to enjoy the festivities at the nearby clubrooms on the sunny mid-winter Saturday.
Looking relaxed and refreshed after his time out from the game, McCaw today said he had been training hard for the past six weeks or so and was nearing peak fitness. He has been following a programme set by All Blacks trainer Nic Gill.
The 32-year-old's sabbatical means he hasn't played since the All Blacks' loss to England at Twickenham in December last year.
"It's still three or four weeks away yet,'' McCaw said of his return. "That's the plan, whether it's a couple of weeks for them [Christchurch] or I go back and play for the Crusaders [after one match], it actually depends on how they [Crusaders] go a little bit.''
McCaw said he had been talking to Crusaders coach Todd Blackadder and was happy with the level of flexibility allowed him. Blackadder had told him he could turn out for the Crusaders with a notice of only a week or two, McCaw said.
The veteran of 116 tests and more than 100 matches for the Crusaders said he had enjoyed his break during which he had travelled around the United States, Canada and the United Kingdom. On his way home he had visited Sri Lanka and Hong Kong. Apart from the flexibility of being able to travel on a whim without a regimented rugby timetable, he said he had enjoyed the anonymity.
He also looks in good shape. "I'm in the sixth week of pretty full-on training. I'm starting to feel pretty good. Another five weeks of this and it will be an 11- or 12-week pre-season which I haven't had for years. My aim is to be in better nick than I have in the past couple of years.
"With my foot injury and so on I've always been rushed. I wanted to not only have a break but also have a chance to get myself in good shape, which I have done.''
McCaw and Dan Carter today announced new personal sponsorship deals with adidas in Christchurch ahead of the All Blacks' second test against France at AMI Stadium.
Carter said his broken right hand had improved significantly. There is still some swelling and bruising around it, but Carter said he was catching and passing and would be available for next week's third test in New Plymouth.
He said the enforced break had been frustrating.
- APNZ