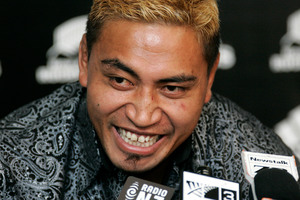 A relationship Jerry Collins had with a woman, who had links to a Brazilian gang, was behind his stretch in jail, his manager says.
The former All Black will return to New Zealand after being released from custody in Japan.
Collins agreed to pay a $1900 fine before his release from custody in the industrial city of Hamamatsu at 3pm yesterday Japan time (7pm NZT), lawyer and manager Tim Castle said.
Collins, 32, had been in custody since the evening of Sunday, March 17, following his arrest at a city department store for carrying two knives.
"Late yesterday Jerry agreed to pay a fine of 150,000 yen (about $1900) and admitted his possession of the knives, contrary to the provisions of the local sword control regulations, as terms for his release,'' Mr Castle said in a statement.
Collins said he had been targeted by a Brazilian gang, which was pursuing him through the city.
Mr Castles told RadioLive Collins had been in a relationship with a woman who had prior links with the gang.
"It's as simple as that, rather than anything sinister as has been some speculation,'' he said.
"On the night in question he was pursued in the streets and of course he had to make some pretty important decisions on how to deal with the situation, so he did what I think was a very sensible thing in the end, he went down an escalator, which was part of a big mall.''
The knives, from his kitchen, were strapped to Collins' legs, and he took them out and put them on the counter to prompt a call to security.
"Which of course there was and...those who were pursuing him fled.''
Collins' father Frankie Collins last night told the Herald his son would return to New Zealand but was yet to speak to him to confirm details.
"He's going to be arriving in New Zealand (his) lawyer said, and that's what we are waiting for, him to get home,'' he said.
He looked forward to speaking with his son and was relieved to hear of his release.
"I am, I'm very very happy.''
Mr Collins was in the dark about what had gone on in Japan.
"We just have to find out the real story or what was happening. At the moment I don't know what has been happening.''
Collins, 32, told TV3`s John Campbell rumours he was on drugs were not true and all tests had come back negative. He said he was treated "very kindly and very generously" in prison.
A Ministry of Foreign Affairs spokesman confirmed the consul from the New Zealand Embassy in Tokyo had been involved in Collins' case over the past week.
He could not comment on whether Collins would have to leave Japan as part of his release.
- APNZ