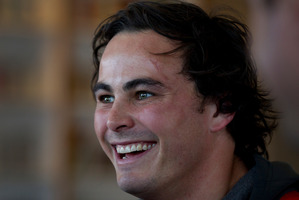 All Black Zac Guildford has stood himself down from the Crusaders over an incident at a house party in Christchurch.
The NZ Rugby Union said late last night that the 23-year-old had voluntarily stepped aside.
It said Guildford had already told Crusaders coach Todd Blackadder about his involvement but had since stood down from the team as the matter was under investigation.
NZRU chief executive Steve Tew said: "We and the Crusaders were very disappointed to learn of this incident. As a result, the NZRU has initiated misconduct proceedings against Zac."
Mr Tew said officials would meet Guildford and his representative this week to discuss his future. "As his employer, we want to ensure that the process respects Zac's right to a fair hearing, so we do not wish to comment further at this stage."
Television NZ described this month's incident as a fracas.
Details have yet to be revealed, including whether it was alcohol-related.
But some of Guildford's friends shared details on social media sites of one gathering he attended during the weekend in question.
A photo posted publicly on Twitter by one showed Guildford spending time with friends at a house on Friday, January 11.
A second photo, posted by Guildford soon after, showed some of the group playing backyard cricket.
One of the men who was with him that Friday and was named in the Twitter photograph captions later intimated on Facebook that it was a big weekend for some of the group.
"Wow!!!! What happened yesterday between 12.30 and 10pm?" he asked.
Another person replied: "F*** knows ... s**t got a wee bit silly."
Last night, Crusaders chief executive Hamish Riach refused to shed further light on the incident, saying only: "At this stage we cannot comment on specific circumstances; however, we are looking into the matter."
Guildford, who has played 10 tests and scored two tries for the All Blacks, has been involved in a string of high-profile incidents over the past 18 months, including a drunken rampage in Rarotonga in November 2011 that resulted in his arrest.
After that incident, the Napier-born player admitted he was struggling with a drinking problem and vowed to give up alcohol for 12 months.
He spoke with Blackadder, telling him he could not remember what had happened.
"I think that for the very first time, Zac has acknowledged that he's got an issue, that he can't control his drinking, and it's obviously causing a lot of issues," the coach told the media at the time.
"There's no second chance to learn here," he said. "I think that's really clear."
The Zac Guildford file
August 2011
Broke team rules when he left the All Blacks' hotel to go out after their Bledisloe Cup victory against Australia at Eden Park. Within weeks, he drank heavily and broke the team curfew after the All Blacks' 25-20 defeat to the Wallabies.
September 2011
Guildford admitted to having issues with alcohol and promised he would get problem under control.
November 2011
The 23-year-old was arrested after he stormed into Trader Jacks in Rarotonga naked and allegedly punched two men. He then announced a self-imposed 12-month drinking ban, saying: "I need to sort myself out."
November 2012
After being photographed drinking at a function, Guildford said he had changed his ways and now trusted himself to enjoy one or two drinks with friends.