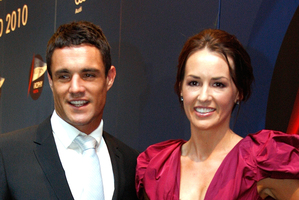 All Black wags should get busy with their knitting needles - two of their group are expecting the pitter patter of tiny feet within days of each other.
Dan Carter announced to the world via Twitter this week that wife Honor was expecting, saying: "Thought it was time to share our exciting news. @HonorCarter is 21 weeks pregnant! We are both very excited about being parents".
That means baby Carter is due early April, exactly the same time Ali Williams' wife Casey Green is due.
Plainly, All Blacks having time off the field with injury is good for relationships - both women must have become pregnant during what would normally have been the height of the rugby season.
Williams was recovering at home after knee surgery that left him on crutches, while Carter had hurt a hamstring in the test against Ireland mid-June. He did not get back on the field until the Crusaders' Super rugby match against the Chiefs on July 8.
Green declined to comment this week but on October 1, when she and Williams revealed their baby news in the NZ Woman's Weekly, Green said she'd suffered bad morning sickness in the early stages.
"I'm nervous because Ali's away a lot," she said. "And he's 6 foot seven and 120kg, so I'd like my obstetrician to keep an eye on the size of the baby."
Williams wasn't named in the All Blacks' team for the match against England overnight.