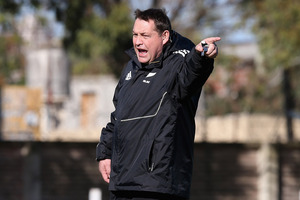 Expectation is high that All Black coach Steve Hansen will have his contract extended through to the 2015 World Cup early next year.
It has been an outstanding season for the national team and one in which Hansen has improved and advanced the legacy and internal structures of the national team.
Coming into this morning's test at Twickenham, the All Blacks were unbeaten in 20 tests, 13 of which have been played during Hansen's reign as head coach.
His talent identification, strategies, man management and conduct with external stakeholders have all been exemplary.
The New Zealand Rugby Union are known to be keen to tie him in for longer as a sign of their confidence and faith in his ability to take the side through and defend their world title.
Hansen was initially contracted at the end of last year on a two-year term with a view to that being extended should his performance merit it.
Given the year the All Blacks have enjoyed, the settled nature of the squad, the obviously relaxed but focused culture that has developed and the performances that have been produced, there is unlikely to be any resistance to extending his contract.
There is a strong argument to be made that it would be beneficial for everyone - coach, players, NZRU and stakeholders - to do it sooner rather than later to provide certainty of mind to all as to who is going to be in charge for the next three years.
"We haven't discussed it at board level yet," says NZRU chief executive Steve Tew, "other than to say we will have our normal post-season review and then have another discussion at our last board meeting in December. We will do that and see where things are at.
"These guys [current All Black management team] have done a good job but is is in everyone's best interests to finish this tour, then have a full review of the rest of the year and then make some decisions. Which is what we have done a bit in the past."
Hansen already has a clear vision of how he wants his team to evolve over the next few years and the type of rugby he wants then to be playing in 2015. It is a plan the senior players have endorsed and are engaged in.
It is likely, though, that while Hansen's contract may soon be extended, that none of his wider management team will be afforded the same reward.
There is no question the current group has worked well and the various individuals are performing well, but the NZRU will not want to expose itself by rubber-stamping everyone so early into the Hansen era.
The rest of the management group are probably going to have to wait until later next year to begin negotiations about their respective futures.