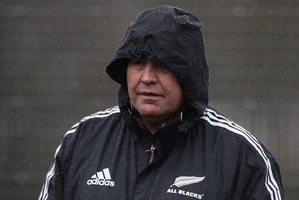 Hansen is hard on players but also knows how to leaven that with downtime. Steve Hansen has accrued test combat knowledge in 145 internationals.
As a head coach with Wales he won a third of those 29 duels, but this season with the All Blacks he has been undefeated in a 13-match sequence. In between, as an All Black assistant, he watched and soaked up much of what test rugby can throw at teams in 103 games.
Hansen is hard on players but also knows how to leaven that with downtime. He can relax with them, he can chivvy them, he makes them feel comfortable.
He carries a fear factor as Graham Henry did but Hansen lets that pass, he does not carry enduring grumbles. If he has a beef with anyone - players, officials, media, sponsors - he will front you and then move on.
Players understand but do not take that as a sign of weakness. Incurring Hansen's displeasure the next time is not an easy scene.
Ian Foster delivers the sort of inquisition Hansen used to at selection and planning meetings.
He did not know Hansen especially well before this season but his work ethic, sense of perspective and humour have rounded out their partnership.
He has looked after the backs and the attacking plays the All Blacks have worked. He was a longtime Super rugby coach who never quite cracked it with the Chiefs and many saw that as a sign of weakness. Perhaps it was but Foster sits comfortably in an assistant role.
His demeanour and raspy wit allow him to deal comfortably with most situations and devote himself to the team cause.
His predecessor Wayne Smith would have shaded him for experience, perhaps even invention with the attack, but Foster is working strongly to blend newer players to the experience.
Brian McLean is the defence coach, a man who had been linked with Hansen before in sport and business dealings and had some time with Samoa.
It was deemed a bit of a gamble to use him at international level in Henry's old role as defence coach, but Hansen, Foster and third selector Grant Fox would not entrust their teams to someone they did not trust.
So far yielding 14 tries in 13 tests has been a strong yardstick and by comparison, last year the All Blacks conceded 16 tries in 12 tests as they built to their World Cup triumph.