Otago University hydration solution aids sportsmen in jetlag recovery.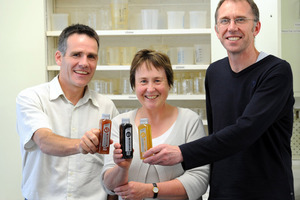 The All Blacks take jetlag seriously and their search for ways to combat its effects led them to a solution developed by university researchers.
The product developed with the company Flyhidrate consists of three different coloured drinks, designed to be consumed at different stages of a long-haul flight.
The drinks were first used by the All Blacks during this year's Rugby Championship and again on their trip to Scotland ahead of their northern hemisphere tour.
University of Otago physical education senior lecturer Dr Jim Cotter, who worked on the product with a team of researchers from the School of Physical Education and the Food Science Department, said it felt good the product they helped create was being used by the All Blacks.
He said they agreed to take part in the project in early 2010 and developed, tested and refined the drink over 18 months, from June 2010 to December last year. It first went on the market this year.
Dr Cotter said in developing the drinks the team applied some of the work they had done on hydration solutions for athletes competing in the heat to long-haul flying.
Keeping hydrated throughout a flight resulted in less fatigue at the destination and helped the body get used to new time zones quicker, he said.
While not created specifically for sports people, the amount of travel they did meant many could take advantage of it.
"If it can do something that makes them feel better with their travel and make them feel a bit better at the other end, then that's great."
However, he was keen to point out it was not a "magic bullet" for combating jetlag.
"There is no substitute for common sense when you are flying in terms of good fluid consumption, keeping moving, and not drinking too much alcohol."
The drinks are available at Auckland Airport as well as some others in Australia.