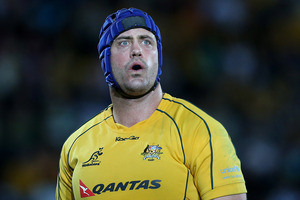 Skipper Nathan Sharpe says the wounded Wallabies must produce their best performance of 2012 - by a long way - to upset the record-seeking All Blacks tonight.
The All Blacks easily swept aside Australia in their two opening matches of the Rugby Championship and are at full strength for the dead rubber, third Bledisloe clash, while the home side have been crippled by injuries.
But veteran lock Sharpe, playing his last test on Australian soil, stressed the world champions remained beatable and his $6 underdogs had the opportunity to pull off one of the biggest upsets in Wallabies history.
"The good thing for us is we get the opportunity to beat them and that's what we want to do. Every team is beatable."
Sharpe said his under-strength team - buoyed by a gritty 25-19 win over the Pumas in Argentina in their last match - could turn their unconvincing form on its head.
"We have to play the best game we have played this year - and by a way as well," the 111-test stalwart said. "We know that and we're aware of that and we've had a great week of preparation, so if we can translate that into a performance on the field tomorrow night, we'll give ourselves a shot."
While it will be his last game at home, Sharpe - the only man in the Australian team to have sipped from the Bledisloe Cup way back in 2002 - isn't letting the emotion of the situation seep into his thoughts.
"I'm not too focused on the individual side of things," he said. "I'd just love to win it, that would be great for Australian rugby and I'd be happy to be a part of that."
- AAP