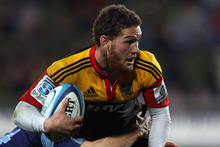 Young hopefuls often hit reverse at this time of year. What had come so naturally and easily in the earlier roundssuddenly hits a blockage - pressure stuns the brain, stifles the growth and many a fledgling career has gone on hold as a result of knockout round meltdowns.
Tawera Kerr-Barlow iscertainly not buckling in these intense times. The 21-year-old, prone to a touch of the erratic and ill-advised throughout March and April, has been polished, clever and inspirational in the last few weeks, although he may have been guilty of trying too much on Friday night.
Pressure seems to be the thing he needed to drive out his best work and, in the space of four weeks, he's pushed himself from fourth to third in the All Black pecking order and there's a good argument that he's now second.
The plans that All Black coach Steve Hansen held for Kerr-Barlow may have to be fast-tracked; the conviction that the national side needs the experience of Piri Weepu in the forthcoming Rugby Championship may have to be challenged.
Weepu, fitter, livelier and in a better head space than he was even eight weeks ago, still appears to be in the human equivalent of flight mode. Maybe the version of Weepu that was unveiled at the World Cup will shortly emerge. Never one to be accused of peaking early, the 28-year-old is prone to springing to life, finding his best form when no one sees it coming.
He will have to find that edge, increase his impact or Kerr-Barlow is going to have anirrepressible case for All Black inclusion. Hansen has his halfback plans mapped out. He - and it's not as if the powers of Nostradamus are required on this - believes Aaron Smith, Kerr-Barlow and TJ Perenara are the likely three halfbacks the All Blacks will take to the 2015 World Cup.
This year, though, the All Blacks wanted to start their campaign with an emerging talent - which is Smith - and retain one of the old stagers (which is Weepu). The experience and composure of Weepu and his ability to change the dynamic of the attacking patterns are his trump card. The All Blacks like having him on the bench for the differences he brings and the assurance he provides.
But Smith has settled quickly into test football and Kerr-Barlow looks ready; he has been the attacking spark to ignite the Chiefs in recent weeks. The Crusaders struggled to contain him and against the Hurricanes he was always probing, always alert. He sniped and harried; delayed his passes, saw space, supported play superbly, tackled hard and controlled the rhythm and tempo of the Chiefs' attacking game.
"He's been a real handful around the edge obviously for opposition and he found a lot of space again tonight - and the disappointing thing was we just didn't get enough numbers in and around him to take one more pass and turn that in to a seven-pointer. So he's been very good. Tawera and I know he's physical defensively," said Chiefs coach Dave Rennie after the loss to the Hurricanes.
"He's really making good decisions in and around the edge, when to run and when to pass. He's a pretty diligent kid and he's certainly working hard on various areas of his game. He's been a good passer and impressive defender but I think his decision-making around the edges has improved a lot. So we need a couple more big performances out of him."
Kerr-Barlow needs a couple of big performances as much for himself. He is the only All Black halfback contender still in the competition - Andy Ellis is an emergency pick only now - and, if he can continue to thrive under pressure, develop his game and perform on the big stage, he'll at least secure a spot on the end of year tour.
By Gregor Paul

Email

Gregor