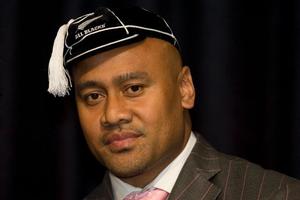 Jonah Lomu's historic test debut in 1994 was finally recognised at a capping ceremony in Auckland last night.
Running on as a baby-faced youngster against France in 1994, he became the youngest All Black in history, aged 19 years and 45 days.
Lomu went on to worldwide fame at the Rugby World Cup in 1995, where he famously stomped over England's Mike Catt on his way to the tryline, leaving commentators speechless.
Last night, Lomu joined some of New Zealand rugby's other greats at the All Blacks capping ceremony in Auckland - one of six ceremonies to be held around the country.
Other former All Blacks honoured included Stu Wilson, Eric Rush, Joe Stanley, Sid Going and the current NZRU vice-president, Bryan Williams, who was also 19 when he made his debut in 1970.
The capping ceremony used to be a tradition but was interrupted by World War II and was not re-introduced until 1997.