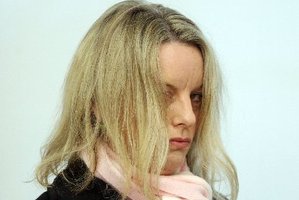 Disgraced Hastings barrister Sacha Beacham has received her fifth conviction since 2002 and been told by a judge that a person in her position should have known better than try to intervene when police were doing their job.
After her appearance, Beacham, 40, hurled abuse at photographers outside the court and screamed at the top of her voice while walking through the Hastings CBD.
She stopped outside the Hawke's Bay Today newspaper offices to yell, "Shame on you, Hawke's Bay Today," and said she was heading to the pub if media wanted to take another photo.
Name suppression was lifted for the defence lawyer, who also lost her bid to prevent photographs being taken in the Hastings District Court yesterday following charges laid after a New Year's Eve stand-off in Napier where she abused police while clinging to the windscreen-wipers of a friend's car.
Beacham was travelling as a passenger in her male friend's Volvo, which was pulled over about 2.15am.
Beacham took offence when her associate was asked to accompany police after he failed an initial breath-alcohol test.
She abused police and told them to "shut the ******* door" and "**** off".
After repeatedly ignoring their requests, she tried to avoid being handcuffed and grabbed hold of the Volvo's wipers. She continued to hurl abuse.
She was charged with resisting police, obstruction and disorderly behaviour. A charge of performing an indecent act with intent to offend was also laid, related to an incident that night in the Napier police station.
At yesterday's hearing, a forlorn-looking Beacham represented herself and admitted to obstruction and resisting. The two remaining charges were withdrawn.
Judge Barney Thomas said Beacham had agreed her behaviour on the night was "entirely misplaced and inappropriate". He said with her legal background she should have known the police were acting within their rights. He fined her $200 on both charges and ordered her to pay $132 court costs.
Judge Thomas rejected Beacham's opposition to cameras in the court, saying the principle of open reporting applied.
In mitigation, she told the court her previous drink-drive convictions were unrelated to the case.
"I've relocated to Auckland, so don't require to have anything to do with Hawkes Bay police professionally or personally.
"The chances of this [offending] ever happening again are remote."
New Zealand Law Society acting complaints manager Malcolm Ellis confirmed that Beacham no longer held a practising certificate.
A person without a certificate could not represent someone in court or give legal advice.
- APN