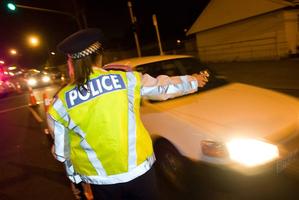 An Oamaru man was caught drink-driving twice on the same night, driving different vehicles.
Daniel Seymour Morrell, 22, a freezing worker, was sentenced to 85 hours' community work and disqualified from driving for nine months on two charges of driving with an excess breath alcohol level on June 3 when he appeared in Oamaru District Court yesterday.
He was also convicted and discharged for driving while forbidden on the same night.
The court was told Morrell was pulled over by police at 9.35pm on Thames Highway. He was found to have an excess breath alcohol level of 612mcg. The legal limit is 400mcg.
Police charged him and issued him with a notice on the spot, forbidding him from driving.
Less than two hours later, at 11.11pm, police found Morrell driving again on Thames Highway, this time in a different vehicle.
He blew 459mcg and was also charged with breaching the notice forbidding him to drive issued earlier that night.
Defence counsel Ngaire Alexander said Morrell acknowledged how foolish it was to drive drunk, not just once, but twice on the same night. "He doesn't intend to repeat the mistake," she said.