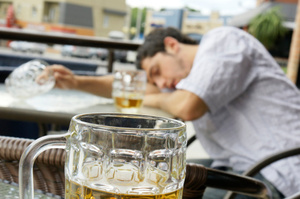 Changes to laws governing access to alcohol has led to a "perfect storm" for alcohol consumption, meaning students today drink more dangerously than previous generations of students, University of Otago vice-chancellor Prof Harlene Hayne says.
Prof Hayne made the comments in the latest University of Otago Magazine, telling past graduates of the university the "world has changed substantially since you were a Scarfie".
Over the years changes to laws - including lowering the drinking age from 20 to 18 and the introduction of the Sale of Liquor Act which resulted in a dramatic increase in the number of licenced premises - had led to a "perfect storm" for dangerous alcohol consumption, she said.
"In addition, ... electronic access to money via credit cards or eftpos means that people in this country have almost unlimited 24-hour access to alcohol. Students are no exception.
"What this means is that even if you had a lot to drink when you were a student at Otago, by today's standards you would be a rookie," she said.
She said the university was not going to "destroy the Scarfie culture" as some alumni were concerned could happen, but said some changes were necessary to reduce the harm alcohol was causing students, including short-term memory impairment, increased risk of alcohol addiction and serious injury and an increase in disorder.
None of these issues were "unique" to the university but Otago University had a "special commitment" to keeping students safe while maintaining a "vibrant" student culture, she said. As part of this commitment she had been working with students to find ways of "moderating [but] not eliminating their drinking".
This included meeting every student who had come to the attention of Campus Watch for ending up in a dangerous situation due to their drinking since February and working with the Otago University Students' Association to expand the range of student activities available.