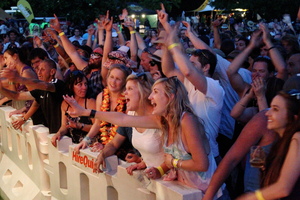 A decision over whether to raise the drinking age to 20 will be put to a conscience vote in Parliament next month.
The Alcohol Reform Bill, which will introduce a raft of changes to tighten up alcohol laws, passed its first and second readings with wide support last year.
Justice Minister Judith Collins said today that recommendations proposed by Parliament's justice and electoral committee had been addressed, and the legislation was ready to progress through its remaining stages.
The bill aims to reduce the availability of alcohol by stopping sales from dairies and conveniences stores, and giving local communities a greater say in licensing decisions, such as where alcohol outlets are located and what times they can open.
It also proposes a split purchase age of 18 for on-licence premises such as bars and restaurants, and 20 for off-licences such as supermarkets and liquor stores.
"Together, these reforms will target the causes of problem drinking, without punishing moderate and responsible drinkers," Ms Collins said.
"The changes support a shift [in] drinking culture, away from drinking to excess, towards responsible, moderate alcohol consumption."
The purchase age will be put to a conscience vote, with MPs able to vote as individuals rather than as part of a party block.
Ms Collins said MPs would have a choice of three options - to introduce the split purchase age, to raise both the on-licence and off-licence purchase age to 20, or to retain the status quo.
"We are hoping to strike a balance between minimising harm and trusting responsible New Zealanders to make their own decisions about alcohol," Ms Collins told Parliament.
The bill followed the Law Commission's 2010 report on alcohol harm, and picked up several of the report's recommendations. However, critics have argued that the legislation does not go far enough.
The bill had been talked up as ground-breaking but was "a disappointing damp squib," said National Addiction Centre director Doug Sellman.
"Even on cursory examination of the new Bill, the multiple tinkerings it contains are overshadowed by the lack of substantial reform, making it unlikely there will be any appreciable change in the heavy drinking culture of New Zealand as a result of its adoption," Professor Sellman said in a statement today.
"It is inexcusable that the Government is too timid and too captured by the big alcohol-related businesses to tackle the real problem driving the heavy drinking culture in NZ."
- APNZ