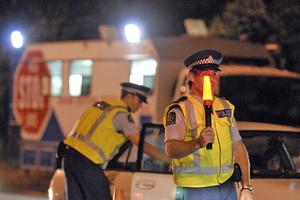 A judge has labelled a businessman as "disagreeable" after he took almost a year to complete 80 hours of community work.
Alex Beacham, 31, general manager of Hastings-based Beacham Independent Jaguar Ltd, was sentenced to the term of community work after he was caught drink-driving in Napier on April 15, 2010.
Beacham, driving a Jaguar, was stopped at a checkpoint on Hyderabad Rd just after midnight. He returned a blood alcohol level of 105mgs. The legal limit is 80mgs.
The businessman then applied to have his case heard outside the region.
In the Papakura District Court on April 28, 2011, he successfully applied to substitute the normal mandatory driving disqualification for a sentence of community work. He was also fined $400.
Further charges were laid after he then breached his community work four times last year.
In Hastings District Court this week, defence lawyer Eric Forster argued his client had suffered a medical complication while serving out his sentence at the Hastings SPCA. Mr Forster said he had completed his hours despite it being "a long torturous path".
Judge Geoff Rea convicted and discharged him with the words: "You are one of the most disagreeable attendees the probation service have tended to," Judge Rea said. He said the businessman had made hard work of his sentence right up to the bitter end.
Beacham, the brother of Hastings barrister Sacha Beacham, and son of local GP and Beacham Independent Jaguar Ltd owner, Greg Beacham, refused to comment on his court appearance.
For more articles from this region, go to Hawkes Bay Today