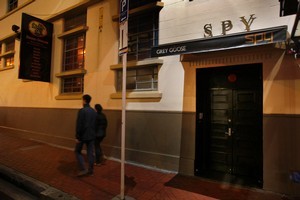 A man charged with punching and causing the death of a Sky Television employee in Auckland's Viaduct is back behind bars.
Kit John Murray had been out on electronically monitored bail with a 24-hour curfew until earlier this month.
But at a bail hearing in the High Court at Auckland this morning, his lawyer Andrew Speed said that the address his client had been staying at was deemed no longer suitable by police.
Police returned Murray to custody on February 8.
Mr Speed said an appropriate address for Murray had not yet been found and his client would return to court for another bail hearing in a week's time.
Sky worker Billy Dawson had been with colleagues at the Viaduct during their busy Rugby World Cup coverage on October 7 when he was punched during an altercation at the Viaduct.
The death occurred outside Spy Bar, close to Party Central.
It is understood he suffered a brain injury caused by the force of the punch to his face. He also hit the back of his head when he fell.
He died hours later in Auckland Hospital.
Murray had been charged with assault but police have since upgraded the charge to manslaughter.
Two other men, Mona Christo Feterika and Antoni Te Moko Roger, have been charged with assaulting Mr Dawson.
- APNZ