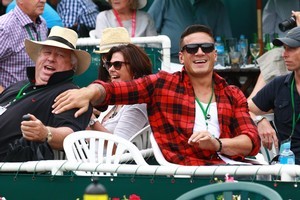 A group of drunken corporate guests who double faulted at the Heineken Open have been told not to return next year.
Onlookers say the group, at the courtside table of building retailer Carters on Friday, were drinking and talking loudly throughout the day's play - against tennis etiquette.
German player Philipp Kohlschreiber was distracted by a Carters guest chatting loudly on a cellphone and lost the match. Before storming off the court he ripped his wrist band off and hurled it in the direction of the box.
NZ Tennis chief executive Steve Johns, sitting two boxes along from the Carters group, approached them earlier in the day to ask them to behave.
"They were getting rowdy and using bad language. It was upsetting the players," he said.
Life-long tennis fan and coach Rick Healey said the guests were "oblivious" to the game. "It was as if they were at a party. I don't think anyone was watching the tennis. "The umpire actually had to stop the game and tell them to be quiet. They were disturbing everybody, not just the players."
The Heineken Open had become a stomping ground for socialites and corporate guests rather than fans, Healey added.
"A lot of the people are clients of business people who don't know about the game. There's always a few idiots who misbehave."
Attention to the game was so poor that spectators hardly cheered when a player scored or performed brilliantly, he said.
Tournament boss Richard Palmer suggested Carters not invite the troublemakers back next year, but said it was a worldwide problem that players were "immune" to.
Two-time Heineken Open winner Dominik Hrbaty disagreed: "It's really tough to handle. It drives the players crazy. It's distracting, it breaks your concentration. These people were sitting just two metres away. They made noise right as he was hitting the ball."
Tennis requires intense concentration and spectators are expected to turn off phones, be quiet during play and stay seated until breaks.
Former All Black Joe Stanley, who runs the corporate hospitality and also asked the Carters group to quieten down, said: "We're in a pretty awkward situation. We actually sell the boxes, they are a client."
Yesterday, a star-studded crowd, including Sonny Bill Williams, his manager Khoder Nasser and triathlete Hamish Carter, were better behaved for the men's final.