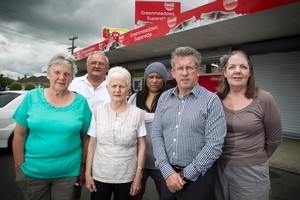 Manurewa community members are fighting a superette's application to sell beer and wine, saying its proximity to schools puts youngsters at risk.
They say that the death of a 30-year-old at the local Woody's Bar at the weekend shows the area needs less alcohol availability, not more.
Greenmeadows Superette on Myers Rd has applied for an off-licence between the hours of 7am and 10pm.
Manurewa East School principal Phil Palfrey said the dairy was a natural meeting place for his students and others from the nearby intermediate and Alfriston College and, without the off-licence, was relatively safe.
The application made his blood boil, and rather than go on holiday he'd returned to school to fight the move.
"The trouble is the type of people that we would worry about if alcohol's involved. It's open at 7 in the morning, for God's sake, and closes at 10pm.
"That means none of our kids are safe at any time now and I think that's disgraceful.
"They'll be people who want booze in the morning who'll be trying to get lunch money off our kids to buy their filthy booze. Kids already see far too much around here; they deserve the right to be kids."
Community organisers such as grandmother Margaret Clissold made a letterbox drop of 500 at the weekend hoping to raise awareness before submissions close today. She was angry that teachers and parents were only made aware of the application as school was finishing.
"We don't want it. We're a reasonably quiet area here. I don't want drunks hanging around here and you don't need it with the youngsters."
However, superette spokesman Rob Singh said the business was willing to trade only after 3pm, but needed the licence to remain a viable business.
"I don't see those people paying our mortgage for the premises. As far as we can see this is the only way ... once again we can't survive on $2 bread."
Auckland Council says there are about 30 licences in the Manukau CBD and Manurewa area.
A spokeswoman for Auckland Council said the process could take up to nine months. Because of the likelihood of objections the independent Liquor Licensing Authority would hear the application.