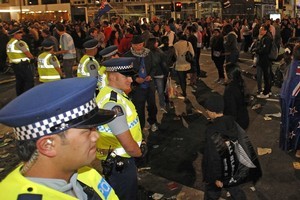 Urgent talks will be held this week on how to manage the rising party mood in Auckland after Rugby World Cup fans spilled out from bars and pubs across the city at the weekend.
The 14 Irish pubs in central Auckland were overflowing from 3.30pm on Saturday and the celebrations reached fever pitch after the Irish stunned the rugby world with a 15-6 victory over Australia at Eden Park.
Police officers were sent to Father Ted's Irish Bar on the corner of Wellesley and Queen Sts at 3.30pm when patrons spilled on to the road. The bar owner, who declined to be named, said the vibe was "excited and patriotic" but declined to comment about the involvement of police.
Many Irish supporters were still celebrating there yesterday afternoon.
There were similar scenes after the game in Kingsland, where breaches of bar licences took place and a liquor ban was not enforced.
Superintendent Brett England said the police were pleased with the behaviour of fans, hardly any arrests were made and a practical approach was applied to policing to allow fans to enjoy themselves.
He said every weekend posed a different challenge.
The focus was on Queens Wharf and the waterfront on the first weekend where a heavy-handed response from the police could have created major problems.
Mr England, a member of the RWC 2011 Auckland management committee, said talks would be held with Kingsland bar owners this week about how to manage future match days.
Auckland management committee chairman Doug McKay said thought had been given to closing a section of New North Rd at Kingsland but the police wanted it kept open for emergency services.
Gary Braid, owner of The Kingslander and a former All Black, said Saturday night was the bar's first successful night since the Rugby World Cup began.
He said hundreds of people were hanging around on the streets outside trying to get into the bars rather than spilling out from the pubs.
"That's really disappointing for me, I would really like to see people be able to come in, away from the cold."
Mr Braid backed closing New North Rd on game day as there were so many people on the roads that it would be dangerous not to.
After 200,000 people swamped downtown Auckland for the opening-night ceremony and a public transport meltdown, Mr McKay said the committee was being cautious about everything with the Rugby World Cup.
Asked if the cup organisers were making things up as they went along after giving assurance every scenario had been planned for, Mr McKay said there was a need to be flexible and to learn from the week before.
"Each of the evenings and events we are dealing with through the whole course of this tournament are quite different. They have a different nature and a different context."
Auckland Mayor Len Brown said cup organisers had addressed the transport challenges of the opening night and crowd issues at Queens Wharf.
Mr Brown, who travelled to Eden Park on Saturday by train, said passengers were kept well informed, there was plenty of security presence and carriages were not overly crowded. Britomart was very busy, he said, but the corralling of passengers on to trains worked well. He commended rail and bus staff and volunteers.
Trains carried 11,370 people to the match and 13,100 after - a similar number to opening night. Buses carried 10,930 fans to the match and 10,200 after. An estimated 6000 fans walked the fan trail to the match.
Queens Wharf also fared better and there was no need to use Captain Cook Wharf for any spillover. On Friday night, Queens Wharf almost reached capacity of 12,000 for the All Blacks' match against Japan. There were about 6500 people on the wharf for the Ireland-Australia match.
Rugby World Cup Minister Murray McCully said the weekend had gone well at the waterfront and the Cloud was busy.
Public transport had also held up. However, the pressures would build as the tournament continued and during better weather.
He had not heard any reports about bars breaching their liquor licences on Saturday night but said it was not necessarily something that happened only during the Rugby World Cup.
"I don't think that would be a unique occurrence. I wouldn't say that was a Rugby World Cup consequence.
"We need to be careful about attributing every issue in Auckland to the Rugby World Cup, although I'm quite sure the pressures [on bars] from fans were substantial."
NUMBERS
* 12,000 at Queens Wharf for the All Blacks' match against Japan.
* 6500 people on the wharf for the Ireland-Australia match.
* 11,370 people took trains to the match and 13,100 after.
* 10,930 fans took buses to the match and 10,200 after.
* 6000 fans walked the fan trail to the match.
- additional reporting Corrie Taylor