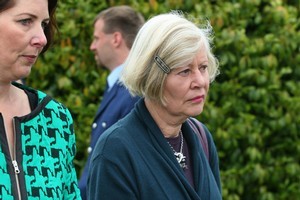 A grandmother jailed after driving at nearly twice the legal alcohol limit and killing cyclist Frank van Kampen on the Kapiti Coast has been released on parole after serving just half of her sentence.
Alison Downer, 72, of Te Horo, on the Kapiti coast, killed Mr van Kampen as he biked home from the Waikanae school he taught at on September 18, 2009.
She was sentenced in February last year to two years and two months' prison, which was due to finish on April 2, 2012.
At her sentencing in Palmerston North District Court, it was revealed that the killing was the alcoholic's fourth drink-driving conviction since 1991. She had twice previously blown almost three times the legal breath-alcohol limit.
The Parole Board said Downer had completed a drug treatment programme and counselling.
The board said Ms Downer was aware of the opposition of her release by Mr van Kampen's family.
"She acknowledges total responsibility for the avoidable accident that caused Mr van Kampen's death. She offers no excuses," the board said.
"She is aware of the pain and devastation that she caused. She sincerely wishes that she could undo what happened but she can not."
Downer admitted her struggle with alcoholism and pledged never to drive again.
The board said Downer was at a low risk of reoffending and if she were to be released, that risk would reduce even further.
"In all the circumstances, we are satisfied that, provided she complies with her safety plan, Ms Downer will not pose an undue risk to the safety of the community during the remainder of her sentence."
Downer was ordered to complete an alcohol and drug treatment programme on her release.
- NZPA