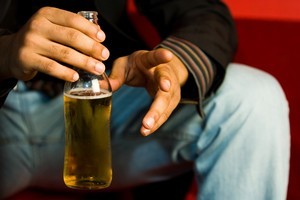 Christchurch's inner city alcohol issues have moved to the suburbs since last month's earthquake devastated the central business district, police say.
Last night 29 people were arrested for alcohol related "yobbish" behaviour, said Superintendent Russell Gibson.
He said there had been an increase in alcohol-related offending around suburban hotels over the weekend.
"The number of arrests last night is similar to normal Saturdays in the city. The difference is that the alcohol-related offending is happening in the suburbs instead of the inner city entertainment venues which are inside the cordon," he said.
Police were seeing some "displacement effect" with larger numbers of people socialising at venues closer to home.
High visibility police patrols were continuing to operate across Christchurch including the outskirts such as Rangiora.
He urged people to think carefully about their drinking.
"We know these are stressful times and that it's not unusual for people to turn to alcohol for some extra support," Mr Gibson said.
However, alcohol was not the answer and if people were going to drink, they should do so safely and responsibly, he said.
- with NZPA