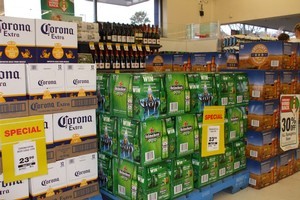 Supermarkets are driving binge drinking with aggressive pricing and should be banned from selling alcohol, the Hospitality Association says.
In a submission on the Alcohol Reform Bill today, the association said supermarkets had dramatically increased their market share of alcohol sales, which had led to a shift in where New Zealanders drink and more people binge drinking.
Retail sales through supermarkets have doubled from about $8 million to almost $16 million in the past decade, while sales at bars and restaurants were either flat or growth was limited.
The association said the negative impacts of past alcohol reform could be firmly sourced with the availability of cheap alcohol from supermarkets, which had increased the availability of alcohol to youths.
Supermarkets were also driving binge drinking by using alcohol as a "loss leader", where it was sold below cost to attract shoppers.
"There is a strong case for removing all alcohol from supermarkets and grocery stores," the association said in its submission to Parliament's justice and electoral select committee today.
"Unless Parliament addresses the issue of the sale of alcohol from supermarkets ... then the worst features of New Zealand's alcohol consumption will continue unabated."
The association said off-licence sales of alcohol should be restricted to specialist liquor stores or over the counter on-licences, where staff were specifically trained to sell alcohol.
It also called for a minimum price for alcohol.
"At the very least Parliament must address the pricing policies of supermarkets and the most effective way is to introduce minimum pricing or banning the advertising of price."
The association said minimum pricing would be simple to introduce if it was linked to the number of standard drinks a beverage contained.
If the price was set at $1.50 per standard drink, a dozen 330ml stubbies of beer could not be sold for less than $18 while bottle of wine could not be sold for less than $11.25.
"This measure takes little bureaucracy, little regulation and would be very easy to enforce," the association said.
It called for price promotions to be banned in all alcohol advertising, apart from those inside licenced stores or venues.
The association also called for instant fines for public drunkenness.
Making public intoxication and offence, as it once was, would send "a very clear and powerful message to all New Zealanders that intoxication, wherever it occurs, is unacceptable".
The association said it should not be a criminal offence, but said repeated offending should result in referrals for treatment and "behavioural correction".
"Until the public at large are confronted with some significant and immediate consequences for their state of intoxication it will remain an acceptable norm within society," the association said.
It also recommended making 18 the legal drinking age, rather than the age of purchase, to tackle youth drinking, with the exception of youths being supervised by a parent or guardian.
- NZPA