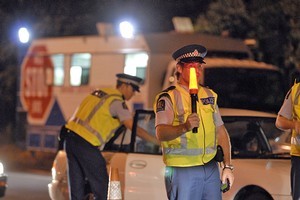 The "don't drink and drive" message is not getting through to motorists, police saying they are particularly disappointed with the number of drivers failing initial breath tests.
Between January 29 and February 5, the Wellington District Traffic Alcohol Group (TAG) stopped 7185 cars in the Greater Wellington area.
Of those, 195 drivers failed the initial test and 22 drivers were charged with excess breath/blood alcohol offences.
Six of the latter were already disqualified or suspended drivers, two had warrants for their arrest on other matters and five were on their third or subsequent excess breath or blood alcohol charge.
"Drivers need to be responsible and plan a safe route home if they plan on drinking alcohol. We do not want to see people becoming just another statistic on our roads, for the sake of a drink," Senior Sergeant Doug Rowan said.
- NZPA