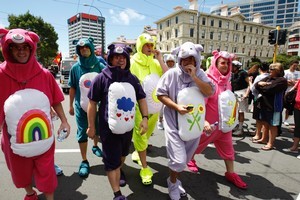 Wellington police were kept busy overnight as fans celebrated on the town after New Zealand's win over England in IRB sevens events.
They said that between 11pm and 5.30am, there were 43 arrests, the majority for disorder and assault/fighting, fuelled by alcohol.
The figure was more than double the number arrested after the first day of the tournament.
Acting Inspector Scott Miller of Wellington Police said it was pleasing that there were no large disorder problems last night, or any arrests of a serious nature.
"The majority of partygoers were very well-behaved with a friendly atmosphere and only a small number spoiled the fun with an aggressive, alcohol-fuelled attitude."
He said ambulance staff were busy dealing with cases of alcohol related distress and fatigue.
Notably many were treated for cuts/lacerations to their feet, due the numerous costumes being worn that did not require footwear.
Mr Miller said although there were a large number of intoxicated men and women within the Courtenay Place party zone, few were left by themselves, with the worst affected being looked after by their mates.
- NZPA