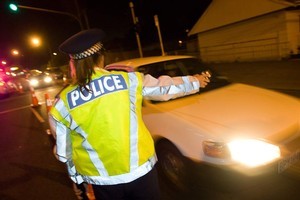 A Tauranga mother has been convicted of letting her 13-year-old son drink and drive after he crashed her Mercedes following a bourbon and cola binge last April.
The woman was fined $600 plus costs, and disqualified from driving for three months after being found guilty in Tauranga District Court of aiding and abetting a drunk driver and aiding an unlicensed driver.
She denied the charge, and was was granted name suppression.
Police Constable Murray McGowan told the court he arrived at a crash at the intersection of Cameron Rd and Cornwall St, Tauranga, on the evening of April 24 to find the woman's son and his 14-year-old passenger standing beside the Mercedes. Both boys were uninjured.
Mr McGowan said the teenager had a breath-alcohol reading of 658 micrograms of alcohol per litre of breath - more than four times the youth limit of 150mcg.
When the boy was taken home and his mother was questioned about the incident, she denied having given her son permission to take the car.
When the boy urged his mother not to tell lies, she sent him to his room, Mr McGowan said.
But the teenage passenger, giving evidence via video link from Australia, was adamant the woman had caved into her son's requests to be given the keys.
The passenger said the pair had drunk 18 cans of bourbon and cola mix between them, and although evidence of their drinking session was still visible, she had allowed her son to take the car keys. She urged the passenger not to tell his own mother.
Despite his earlier comments, the son, in court, denied his mother knew he was taking the keys.
But he later admitted he was hazy about some details.
The woman said that while she consented to her son and his friend having one drink at home, she had no idea they were drinking so much.
She said she would not have allowed him to drive her car under any circumstances, and claimed she had warned him not to touch the car keys while she was having a shower.
Judge Peter Rollo said he appreciated the woman was placed in "a very difficult situation", but said "quite frankly, you are the parent and it's your responsibility, ultimately, to control your son and stand firm to make sure this does not happen again."
For more articles from this region, go to Bay of Plenty Times