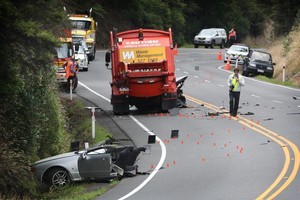 Two Auckland men were critically injured when their car was cut in two in a high-speed head-on collision with a rubbish truck north of Albany yesterday afternoon.
The pair, believed to be in their mid- to late-20s, were taken to Auckland Hospital after being thrown out of the front section of their 1991 Nissan Skyline. This was flung almost 50m uphill from the Waste Management truck after being severed from its rear section.
Their seat-belts were ripped off in the collision, which left the back end of the Skyline wedged under the front of the 8- to 10-tonne truck.
The police suspect a cocktail of high speed and alcohol caused the crash when the car driver lost control of his vehicle while climbing the Albany Hill section of State Highway 17.
Senior Constable Carl Bevin of the Waitemata serious crash unit said last night that the police had grave concerns for the men's survival.
He said the driver lost control of the car on a left-hand bend from the inside of two northbound traffic lanes.
"It slid for approximately 35m before colliding sideways into the Waste Management truck, which tried to take evasive action by pulling off to the left of the road," Mr Bevin said.
"We believe high speed and alcohol are possible factors.
"The road was dry and driving conditions were excellent so we have yet to establish why they were driving at such high speed."
"It was well in excess of the 80km/h speed limit on the hill."
The truck driver and a male passenger, who were heading downhill on their way back from the Redvale landfill when the crash happened at 1.11pm, were shaken but unhurt.
The highway was closed for three hours between The Avenue and Hobson Rd as heavy lifting equipment was brought in to hoist the rubbish truck off the crumpled rear of the car.