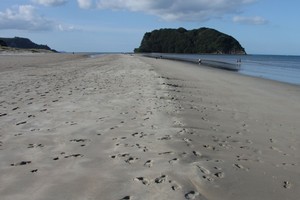 Police have warned parents to keep track of their children after finding a 14-year-old girl having allegedly drug-fuelled sex near Whangamata Beach overnight.
Waikato holiday policing operation shift manager, Senior Sergeant Pete Van De Wetering, said officers found a 14-year-old Auckland girl engaged in underage sex with a 16-year-old male near the beach about 11.50pm.
"Of particular concern for our staff was that the girl said she had consumed an unknown substance and she was clearly affected by this and appeared to be mentally somewhere else," he said.
"For her own safety the girl was taken back to the Whangamata Police Station where she was held while officers made efforts to contact her mother in Auckland which was achieved with some difficulty."
The girl was released into the custody of an authorised adult shortly after 8am and referred to Auckland Youth Aid. The 16-year-old was charged with consuming an illegal drug. Police do not believe the drug involved was cannabis.
Mr Van De Wetering said the incident was one of many police had to deal with involving vulnerable teenagers.
"Ten 17-year-olds were arrested overnight, mostly for alcohol related matters and that doesn't include the number of warnings issued," he said.
"Here we have a clear example of how things can go badly wrong for vulnerable young people and we urge parents to ensure they know where their kids are, who they are with and what they are doing."
Earlier in the day 16-year-old lost his life in Reporoa, east of Taupo, after a vehicle driven by a 15-year-old crashed and a 17-year-old lost his life in the Hawkes Bay on Tuesday when a utility driven by a 13-year-old rolled.
"These incidents of vehicle crashes, alcohol consumption and drug use are all the more tragic in that they are entirely avoidable, young people should not be given underage access to liquor or vehicles, the risks are too high and the consequences, as we've seen, are too tragic," Mr Van De Wetering said.
- NZHERALD STAFF