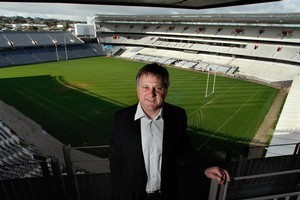 Eden Park Trust is hoping the first large crowd at the stadium since the Four Nations rugby league debacle last month will be well-behaved.
The Boxing Day Twenty20 cricket match between New Zealand and Pakistan will be treated as the second trial for the Rugby World Cup next year.
The first trial was the November 7 rugby league match which ended in fighting fans, hundreds of bottles thrown onto the field and the Australian national anthem being booed.
About 17,000 spectators are expected for the Boxing Day match and Eden Park Trust has said it has a "range of measures" in place to ensure the day runs smoothly.
Trust chief executive David Kennedy said there would be a "no tolerance" attitude towards drunken or unruly behaviour by fans.
There will be family zones, alcohol-free zones and a strong security team in place to control any unruly fans.
The liquor bans in the streets surrounding Eden Park will also be more strongly enforced and better promoted.
"We're looking forward to hosting a large and well-behaved crowd at this great cricketing occasion and will strive to deliver a great day out for all Aucklanders and visitors," said Mr Kennedy.
At a community liaison meeting after the Four Nations "shambles",Mr Kennedy said that one of the biggest problems was that the liquor ban area was not sufficiently communicated.
The area is bounded by Rossmay Tce, Onslow Rd, Marlborough St, Burnley Tce and Ethel St, from 6am on Boxing Day until 11am the next day.
Non-alcoholic drink options and reduced-alcohol beer will be available so patrons have alternatives.
"Patrons will not be permitted to bring alcohol into the ground and any intoxicated people will be excluded from the ground," said Mr Kennedy.
The trust has promised to keep people informed about the traffic and parking restrictions around the stadium
"It promises to be a great cricket match and we want people to enjoy themselves safely and with respect for the players, fellow patrons and the neighbours of Eden Park."