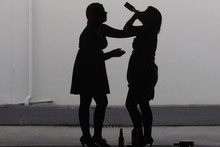 Agonising over whether the drinking age should revert to 20 or be split - allowing 18-year-olds to start buying booze in pubs but not in supermarkets - is all beside the point.
If an 18-year-old hasn't already got easy access to alcohol, courtesy of their parents or mates, they must be living a very solitary life.
As the Law Commission report on curbing the harm of alcohol pointed out in April, the big issues are binge drinking and a major contributing factor: liquor price discounting by supermarkets.
Tinkering with the legal age of purchase and the opening hours of off-licences, bars and clubs, which are the weak core of the Key Government's so-called action plan, might get a few more of the legless young off the streets before sun-up but doesn't tackle the real issue.
Binge drinking, particularly among the young, is not a uniquely New Zealand phenomenon.
It is concerning health professionals and politicians in Australia, Britain, the United States and probably anywhere where supermarkets peddle beer and wine in the same price range as the soft drinks the kids have been brought up with.
Heavily discounted booze seems a common denominator. So is kids sitting at home "pre-loading" on the cheap stuff before heading into town to party - and to top up on the more expensive drinks at the clubs and pubs.
The Law Commission proposed the most effective way of reducing alcohol-related harm would be to raise the excise tax rate across the board by 50 per cent, resulting in an average increase in the price of alcohol of 10 per cent.
"It is conservatively estimated such an increase would provide a net benefit to New Zealand of a minimum of $72 million annually, by reducing the cost of alcohol-related harm and health care."
The commissioners also propose a minimum price, unspecified, to stop tricky vendors from absorbing the proposed increase in excise tax on liquor by upping the price of lettuces or cauliflowers.
My initial response, as a responsible drinker - yeah right - was to object to paying more for my tipple to try to curb the irresponsible behaviour of the over-indulging young, until it was pointed out that genuinely moderate drinkers will be paying only a few dollars extra a year, so will hardly notice the increase. The bottom 50 per cent of drinkers, it seems, pay an average of just $38 a year in excise tax, compared with the top 10 per cent who pay $1316.
It's hard to dodge the logic of that but I still lean towards a simple minimum price policy, such as the one gaining strength in Britain and backed by leading health watchdogs such as Alcohol Concern, the British Medical Association and the National Institute for Health and Clinical Excellence. It's based on a report from the University of Sheffield, commissioned by the Department of Health.
Last month, the 10 local councils that make up Greater Manchester announced plans to follow the Sheffield report and introduce a bylaw that made it illegal to sell alcohol for less than UK50p ($1.09) per unit of alcohol. The Sheffield report said minimum prices at that level would reduce alcohol consumption by 10.3 per cent among harmful drinkers.
A similar price floor in this country would have little effect on sensible drinkers such as you and I and, of course, our politicians, but it would knock the bottom out of the supermarket discounting.
In Britain, a unit of alcohol is the amount an average healthy adult can metabolise in one hour. A standard 330ml bottle of beer represents 1.7 units, a 750ml bottle of 12 per cent wine about nine units.
On the front page of this paper last Friday, Countdown, Foodtown and Woolworths were advertising 24-packs of Lion Red, Waikato Draught and Speight's Gold Medal Ale for just $29.99.
At a minimum of $1.09 a unit of alcohol, these packs would have to be at least $44.50.
Countdown specials a wide range of 12-pack beer starting at $16.99. Only Steinlager, at $23.99, came in over the $22.24 minimum.
As for wine, a bottle would have to be at least $9.81. Kids tanking up on cheap wine in a bladder would be hit hardest. A three-litre box of Blenheimer, currently $24.99 at Foodtown, would rise to $39.24.
The Sheffield report emphasises that such pricing affects moderate drinkers "in a very minor way, simply because they consume only a small amount of alcohol and also because they tend not to buy as much of the cheap alcohol that is targeted by minimum pricing and promotion bans".
It notes that harmful drinkers buy more alcohol, tend to buy cheap alcohol and tend to use a larger proportion of their overall income on alcohol purchases. Therefore they will be most affected by minimum pricing.
Major British retail chain Tesco supports a minimum pricing and the bylaw is under consideration by the Scottish Parliament.
Our parliamentarians, if they take this issue seriously, should be doing the same, not just playing around with side issues.
By Brian Rudman

Email

Brian