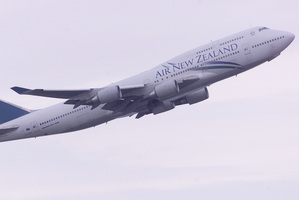 A final report on the illegal shipment of pyrotechnic canisters which endangered the lives of hundreds of passengers on a 2009 Air New Zealand flight has recommended a review of air force safety.
A Civil Aviation Authority (CAA) interim report last year found the Royal New Zealand Air Force breached international aviation standards by placing dangerous chemical canisters on an Air New Zealand passenger flight.
A string of communication failures meant the 2009 incident which "seriously endangered" the lives of up to 379 passengers travelling to Canada was revealed by the New Zealand Herald last October.
An internal air force report obtained by the Herald said the "illegal" act "seriously endangered" the lives of those on the flight and included the incident among safety failures leading up to the Anzac Day 2010 crash that killed three servicemen.
CAA's final factual report, released today, found CAA rules relating to dangerous goods needed be reviewed and tightened up in how they applied to the New Zealand Defence Force (NZDF).
The air force has, until now, had internal rules about dangerous goods but no formal requirement to comply with CAA rules when transporting dangerous goods on civilian aircraft.
The report also recommended a Memorandum of Understanding be established between the CAA and the NZDF to improve the availability of technical advice, guidance and incident reporting between agencies.
"The CAA's safety investigation unit, conducted an investigation into the areas found to be warranting further scrutiny by the interim report," CAA general manager of policy, systems and interventions of civil aviation John Kay said today.
"In particular, these focused on the civilian elements of the incident that were not covered by the RNZAF's own investigation and procedures rules applying to the NZDF when consigning dangerous goods on civilian aircraft and the reporting procedures between the NZDF, and civilian organisations to support this."
The Air Force "acknowledged" the report, saying it would be working with the CAA to implement its recommendations.
"As noted when the CAA released its Interim Report in October 2012, the RNZAF reviewed its procedures to ensure it meets all civil and military regulatory obligations and implemented the necessary reforms in response to the dangerous goods incident in 2009," Chief of Air Force, Air Vice-Marshal Peter Stockwell said in a statement.
"All recommendations from the 2009 RNZAF Court of Inquiry into this incident have now been actioned."