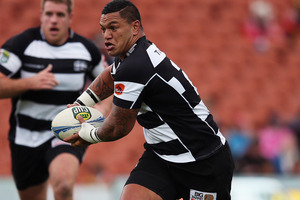 Magpies and All Black hooker Hika Elliot last night admitted to being "pretty gutted" about not being offered a 2013 ITM contract from the Hawkes Bay union.
"After giving so much of my life to a province that I love and respect it was a hard pill to swallow," Elliot said while driving home from a Chiefs training session in Hamilton.
A veteran of 83 first-class games for the Magpies since 2005, Elliot, 27, was back in December under the understanding he would be offered another Magpies contract.
"I was told by Craig [Magpies coach Craig Philpott] and Mike [Hawkes Bay union chief executive Mike Bishop] to hold off for a couple of months so they could see what I was doing during the first part of the Super season.
"All the feedback I've had so far is I've been playing pretty good. Wayne [Chiefs assistant coach and former All Black assistant coach] Smith tells me I'm knocking quite hard on the door of All Black selection.
"To not be re-contracted by the Magpies is a huge disappointment to me and my family.
Speaking to some of the other senior Magpies players like Karl Lowe, Israel Dagg and Zac Guildford, they are as surprised as I am," Elliot said.
The four-game All Black, who has played 75 Super Rugby game,s is disappointed to have been let go this late when other provinces would have selected their hookers.
"I have no animosity towards the Hawkes Bay union because I love the Bay and the Magpies fans ... I'm just disappointed in the way the issue has been handled."
Elliot said if there was an opportunity to play for the Magpies in the future he would take it.
"Hawkes Bay is my home and I've given to much of my life to the jersey."
Bishop said the decision to release Elliot wasn't an easy one.
"It was a balancing act ... we had to weigh it up with how many minutes we were going to get out of him in relation to what we spend on him. Hika is a potential All Black again this year and we are unlikely to see much of him in the ITM Cup."
Bishop pointed out Elliot was getting plenty of game time with the Chiefs who are on target to repeat last year's final effort and there was a chance Elliot could finish the Super season jaded as was the case last year.
"All of these factors along with a reducing salary cap had to be taken into account."
Bishop agreed with Philpott that the ITM Cup competition was in danger of becoming more of a development competition for players straight out of secondary school.
"I hope that doesn't happen because it would be to the long-term detriment of New Zealand rugby. At the moment the ITM Cup is a massive point of difference for us in world rugby," Bishop added.
Elliot joins his Chiefs team-mate Ben Tameifuna as the Super players to be released by the Magpies so far this year.
Meanwhile, Philpott has confirmed first five-eighth Dan Waenga has been released to take up a two-year contract with Biarritz in France.
"Dan could not secure a Super Rugby contract but he's managed to get the French equivalent and we've released him for that."
Taradale's Waenga, a former New Zealand age group representative who has played 30 first-class games for the Magpies, will start his French contract in June.
For more articles from this region, go to Hawkes Bay Today