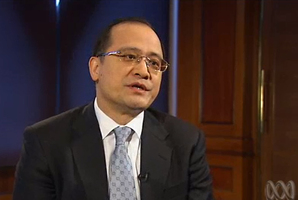 The contamination scares that have hit New Zealand's two biggest dairy co-operatives this month will cause Chinese consumers to "think twice" about shelling out cash on expensive imported milk products, says ANZ's chief China economist Li Gang Liu.
But Hong Kong-based Li-Gang believes New Zealand's reputation for high quality milk will be restored in the minds of consumers in the world's second biggest economy.
"In the long term most Chinese consumers will still trust the goods provided by New Zealand," he said. "I think that has not changed fundamentally."
On Monday Westland Milk Products revealed it had found elevated levels of nitrate in two batches of lactoferrin powder - a protein product - that had been exported to China. That came after Fonterra announced earlier this month that 38 tonnes of whey protein it supplied to customers in seven countries, including China, was suspected of being contaminated with a bacteria that can cause botulism.
The Chinese Government is looking to rebuild its domestic milk powder industry that was hit hard by the 2008 melamine scandal, in which six babies died and hundreds of thousands more were sickened by tainted dairy products. Premier Li Keqiang has said the Government will consolidate the number of manufacturers, nurture key industry players and standardise the breeding of dairy cattle.
Li-Gang said contamination announcements would help the Chinese Government to promote domestic dairy producers.
"In the past Chinese consumers tended to put a lot of hope in quality control in foreign-branded milk powder but these kinds of quality issues will make them think twice," he said. "I think in general it could be a good thing because more domestic competition will force all [companies] in this sector to be extremely careful about quality."
Li-Gang said soaring demand for dairy products had resulted in some dairy companies becoming complacent.
"Certain producers were quite relaxed about their goods and their quality," he said. "Nobody should take a market for granted."
Christopher Adams is visiting Hong Kong as a guest of ANZ.