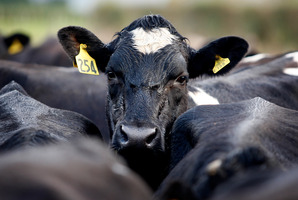 Fonterra's unit price dropped after dairy product prices eased at the fortnightly GlobalDairyTrade auction overnight, but analysts said it was too early to link the two together.
In late trading yesterday, units in the Fonterra Shareholders Fund were at $6.57, down 18c or 2.67 per cent compared with Tuesday's close, but still at a healthy premium to their $5.50 issue price. They eventually closed at $6.60.
In the auction, the GDT price index dropped 2 per cent compared with the last sale two weeks ago. Whole milk powder, the biggest product by volume, fell by 3.5 per cent to US$3170 a tonne.
Matt Goodson, portfolio manager at BT Funds Management said it was possible that the auction price had influenced the unit price, but that it was difficult to tell.
More than 29 million units traded on their first day on the market on Friday, compared with just 2 million yesterday.
"I think everyone is still trying to come to terms with what the stock is actually worth," Goodson said.
BNZ rural economist Doug Steel said the decline in dairy product prices appeared to be the market consolidating after a strong run since May.
Steel said the BNZ holds the view that dairy prices are likely to go up rather than down going into next year, based on tight supply, the US drought and poorer market conditions in Europe.
In August, Fonterra said it had downwardly revised its forecast payout to farmers for the 2012-13 season due to ongoing strength of the New Zealand dollar.
The revised forecast comprised a lower Fonterra farmgate milk price of $5.25 per kg of milksolids, down from a previous forecast of $5.50, and a lower forecast net profit after tax range of 40c-50c, down from 45c-55c per share.
- APNZ