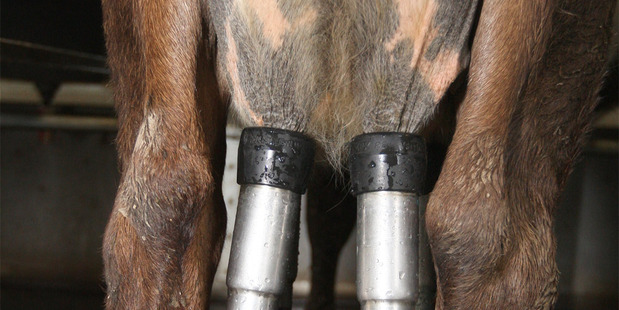 A new website has been launched to help tackle a disease which costs the New Zealand dairy industry around $280 million each year.
Industry organisation DairyNZ has launched SmartSAMM, an online resource aimed at reducing the incidence of mastitis on dairy farms and improving milk quality.
Mastitis is an inflammation of the udder, usually caused by bacteria that enter through the teat end. It is defined by changes in appearance of the udder, cow and/or milk.
DairyNZ estimates total costs of mastitis for an average herd of 300 mixed age cows to be $54,500 per year or $180 per cow.
Its overall cost to the industry is up near $280 million a year, of which DairyNZ hopes SmartSAMM will save in excess of $100 million, said Dr Jane Lacy-Hulbert, senior DairyNZ scientist and technical manager for SmartSAMM.
The resource offers dairy farmers easy access to the complete industry-agreed knowledge about mastitis and milk quality, said Lacy-Hulbert.
"The benefits for farmers and the dairy industry are huge - improved udder health and milk quality, time savings at milking, and ultimately improved production and profit."
SmartSAMM provides tools and resources to help establish if a problem exists, what to do about it, and how to prevent it in future.
"There are guidelines and key recommendations for managing mastitis during calving, lactation, drying off and the dry period," Lacy-Hulbert said.
"We've really tried to make this an 'all-you-need-to-know' resource."
For farm advisors, a section of the site called 'Technotes' provides the more indepth science detail which sits behind the recommendations.
Funded by DairyNZ and the Ministry for Primary Industries, the project is a collaboration between the National Mastitis Advisory Committee, and stakeholders and service providers responsible for mastitis control and milk quality in New Zealand.
The source material has been adapted from Dairy Australia's Countdown Downunder and updated for New Zealand dairy farming.
DairyNZ, which was created in November 2007, represents New Zealand's dairy farmers and is funded by a levy on milksolids and through Government investment.
It launched SmartSAMM at the New Zealand Milk Quality Conference 2012.