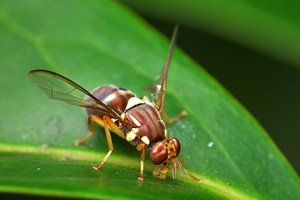 New figures obtained by Labour confirm the Government's "disgraceful" neglect of biosecurity which is putting large swathes of the economy at risk from introduced pests, agriculture spokesman Damien O'Connor says.
Figures provided in response to parliamentary questions from Mr O'Connor to Primary Industries Minister David Carter show New Zealand now has 91 fewer biosecurity officers compared with when National first came to office in 2008.
That's a reduction of almost 20 per cent.
The number of dogs on active sniffer duty at Auckland Airport dropped from 20 to 13 over the same period.
"The new figures will come as a shock to orchardists and farmers who rely on an effective biosecurity system to protect their livelihoods and export ability", Mr O'Connor said.
"This is a disgraceful dereliction of duty. It puts the whole economy at risk, the natural biodiversity, the marine biology supporting aquaculture as well as the horticulture and agricultural industries."
Mr O'Connor said it was "disturbing" that Mr Carter "sat on these figures for more than a week" during the recent Queensland fruit fly quarantine in Auckland.
"Clearly he wanted to avoid further criticism at time of intense public scrutiny and concern."
The recent announcement that 40 new biosecurity staff would be hired was "an admission the cuts have gone too far".
- NZ Herald