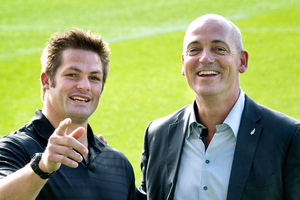 All Black captain Richie McCaw is joining Fonterra as an ambassador to help the dairy company build "stronger connections with communities".
McCaw is coming on board as part of a partnership agreement through to the end of 2015, supporting Fonterra's community programmes and work with its staff and shareholders.
Fonterra CEO Theo Spierings said the company wants to "stay connected to its grass roots" and the rugby legend's values made him a natural fit with Fonterra.
"We're hugely excited to stand shoulder to shoulder with Richie and make some great things happen for New Zealand," Spierings said.
"Richie shares our rural values of hard work and honest contribution."
McCaw said Fonterra was "a great New Zealand company, doing terrific stuff out there in the world and bringing the returns back here".
"Coming from a rural background, I can appreciate Fonterra's co-op spirit, and the way they're getting in behind the community with programmes like Milk for Schools, and other good ideas in the pipeline," he said.
- HERALD ONLINE