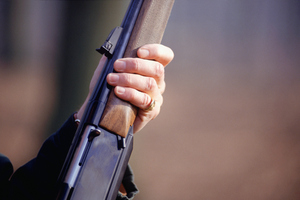 Police are searching for a gunman after a Whangaparaoa home owner was injured when he confronted an offender armed with a sawn-off shotgun.
Police were called to house just before midnight on Wednesday, where they found a man at the property with wounds to his right thigh and right hand. The other occupants of the house were uninjured.
The unknown offender entered the house through an unlocked ranch slider door at the rear of the property. When the man inside the house confronted him, the offender pointed a gun at the victim, said police.
"The offender left the property and soon after the victim heard a gun discharge resulting in injuries to his leg and hand," said police communications spokesman Kevin Loughlin.
The man being sought is described as being aged in his 30s, stocky and 165cm tall. He was wearing a dark beanie, faded blue jeans and a fleecy wool jacket.
Police say the man had a deep voice with a strong New Zealand accent. He was clean shaven, and had a face described as "round" with "wide set eyes".
The sawn off shotgun had a black dull pitted barrel, with a wooden handle - possibly brown.
Anyone with information about the shooting should contact police on 09 426 4555 or call Crime Stoppers anonymously on 0800 555 111.

- APNZ