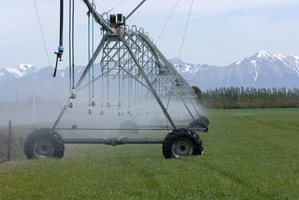 A farming partnership in Canterbury has been fined $9500 for taking water illegally for irrigation.
Brent and Barry Austin, who own Cambria Farms Ltd, in Ashburton, pleaded guilty to two charges of breaching conditions of their resource consent to take ground water.
This occurred on October 30 and between October 31 and November 8 last year, when irrigation consent restrictions were in place.
Judge Jon Jackson said although there was a level of negligence or carelessness it was not tantamount to gross negligence or wilfulness.
Mitigating factors included the company's immediate co-operation with the regional council once the offending came to light and the remorse of its directors.
Environment Canterbury spokesman Brett Aldridge said it was important all consent holders knew the details of the conditions on their resource consents.