Zoe Hilton's love of the sea led her to Bluff's delicacy and a $48,000 award.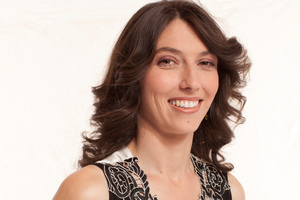 Zoe Hilton, an expert on oysters, first took an interest in marine science while being home-schooled on the West Coast. Photo / Supplied
Home education, a love of the sea and a passion for the famous Bluff oyster have brought a New Zealand marine biologist to Paris, where she is being feted among the ranks of leading young scientists.
Zoe Hilton, 33, has been honoured with a UN-backed prize, the Unesco-L'Oreal International Fellowship, which is attributed to the world's top 15 young women in life sciences.
Yesterday, Hilton took part in a ceremony before 500 people at Unesco headquarters, becoming only the third New Zealander to receive the fellowship award.
Next February, she heads to the Institute for Food and Agricultural Research and Technology in Catalonia, where she will be working for six months alongside Spanish researchers.
She hopes the fellowship will not just be a career boost for her but also a lift for New Zealand's aquaculture business.
"The award is a great indication of where New Zealand is in terms of its science," she said in Paris.
"It's a vindication of New Zealand education and the level of research we are doing."
Dr Hilton's area of expertise is the Bluff oyster, a mollusc acclaimed around the world for its succulence but known to growers as a fragile critter that is vulnerable to disease.
She is part of a 15-year-old programme in breeding oysters which are more temperature-tolerant.
Warmer seas are a big factor in disease, which is why outbreaks of oyster infections tend to take place in the summer - and why marine scientists are so concerned about climate change.
By comparing the Bluff oyster with its European cousin, the flat oyster Ostrea edulis, Dr Hilton hopes to understand why some strains of molluscs cope with environmental stress better than others.
"Climate change is a really, really relevant question right now, in New Zealand and Europe," she said. "We absolutely are facing the same challenges."
Interest in oysters came naturally to a girl who was home-schooled at Karamea until 10 with her cousins and a small group of other girls.
Hilton wandered around the local estuary, taking an interest in what lay at her feet. It was that environment which nurtured a range of specialties focused around biology.
During a year in Costa Rica, she studied and perfected her Spanish, in between snorkelling along the tropical reefs. On her return to New Zealand, she studied marine and biological sciences at Auckland University.
In 2010 she completed her PhD, also at Auckland. Since then, Dr Hilton has been with the Cawthron Institute in Nelson.
"In New Zealand, the problem is not so much getting into science but staying in science. There is very little funding available once you leave the university system," she says.
The Unesco-L'Oreal fellowship is worth US$40,000 ($48,800) and, says Dr Hilton, its effects could be far reaching.
"The fellowship really aims to support people going forward in science and actually being able to establish a career. That's where the real difficulty is: after you leave the safe environment of university, it becomes really difficult to continue."
In Paris, Dr Hilton presented her research to the Pasteur Institute after spending a few days at the research centre in Spain to prepare for her stay there.
The Institute for Food and Agricultural Research and Technology is one of the country's top investigators in food and agriculture, specialising in sustainable fishing and aquaculture.
"Here in Europe, it is so much easier to be creative and collaborate because everything is so geographically close," said Dr Hilton.
"There is such a concentration of really excellent institutions and excellent scientists. Being able to become a part of that and being able to tap into that concentration of excellent work and people is one of the big advantages for me."