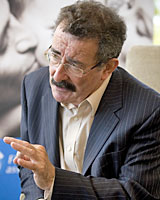 New Zealand must dump its dependence on agriculture and switch to science if it wants a high-profit economy, says top international scientist Professor Lord Robert Winston.
The popular TV documentary host told the Herald yesterday he believed the country's days of relying on agriculture for income were numbered.
But while science was the ideal vehicle to lift the economy, New Zealand researchers lacked the funding to reach the lofty, but achievable, goal, he said.
New Zealand spent about 1 per cent of GDP, or $700 million, on research spending last year - three times lower than some other OECD countries.
Of that, New Zealand's primary blue-skies research fund, the Marsden Fund, was able to distribute just $39 million.
Blue skies research is funded on its scientific excellence rather than a specific commercial drive. The Herald reported in March an open letter to Science Minister Pete Hodgson, signed by 460 of the country's leading scientists, contained a plea for the fund's budget to be trebled. Mr Hodgson responded by drawing attention to a new research fund, worth $700 million over four years, aimed entirely at the agricultural sector.
But Lord Winston, famed for his pioneering research in human reproduction and award-winning BBC documentaries, said New Zealand needed to refocus its research goals.
Lord Winston spoke to the Herald yesterday at the opening of New Zealand's newest and most advanced fertility facility, Fertility Associates, in Auckland.
He said the new facilities were world class and followed a long tradition of New Zealand leading the world in fertility science. Bio-technology, especially in the human reproductive field, was something New Zealand could lead the world in.
Developments in the field were likely to focus on lowering the need for hormone treatment and improving embryo selection, he said. Such advancements would improve the lives of people around the world and offered a potential financial windfall.
"That would be fantastically valuable. I think with a smaller economy there has to be considerable wisdom about how you focus on what you do well. I think that's a very important message for your country. New Zealand should certainly continue on its strengths."
The country's history, and generations of pioneering science in the agricultural sector, had set it up for such a triumph, he said.
"It's because of sheep, basically. You were interested in breeding animals. International industry drove it forward. But it might not be the answer any more."
Meat was losing favour because of its environmental impact, and as an industry it was low profit, he said.
"New Zealand isn't a great producer of many things that are profitable. But scientific knowledge really is important and can be very profitable.
"That's a wonderful model for a small economy. The niche area of biotechnology is a big prospect. New Zealand [tends to] regard it as essential to find the economic value of the research ... before you do the research. It's got to be done on the understanding that you have the basic blue skies research there."
By Craig Borley

Email

Craig