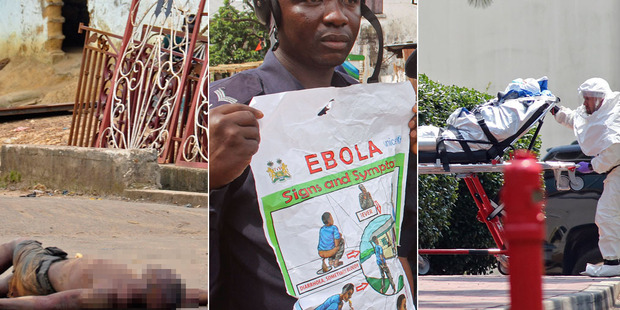 A total of eight people in Nigeria who were in direct contact with a man who flew to Lagos and died of Ebola now have symptoms of the dreaded and deadly disease and have been placed into quarantine, a Nigerian health official said.
Of the eight, only a doctor who treated the traveller has so far tested positive for Ebola. The others are being tested, with results pending, said Lagos state health health commissioner Jide Idris.
The official death toll for the worst-ever outbreak for the disease stood at 887 yesterday, according to the World Health Organisation. Guinea, Sierra Leone and Liberia have been affected much more severely than Nigeria, which has experienced only one death. Though as Africa's most populous nation, Nigeria poses a grave risk of the disease catching on like wildfire.
Read more:
• Hope for Ebola miracle as serum 'reverses' disease
Most of the people in quarantine had made contact in a hospital in Lagos with Liberian-American Patrick Sawyer, Idris told reporters. Sawyer died on July 25, five days after arriving in Nigeria.
Others may have been infected in Lagos, a city with a population of about 21 million, before doctors suspected that Sawyer had Ebola. They put him in isolation about 24 hours after he arrived at the hospital.
"At that point in time, especially the first day, the nature of the disease was not known," said Idris.
During that window of time, it's possible more people got infected, he said as he defended the actions of health authorities.
"If they knew his history they probably would have taken better precautions," he said.
The eight quarantined people, who include the doctor, are among 14 who had "serious direct contact" with Sawyer, most of them at the hospital, Idris said. Authorities are following the conditions of a total of 70 people who had primary contact with Sawyer, and now they are tracking the secondary contacts of the eight people in quarantine, Idris said.
He said volunteers are needed to track down all the people who potential carriers of the disease had been in contact with.
The West African outbreak of Ebola started in March.
British Airways suspends flights
British Airways has suspended flights to Liberia and Sierra Leone until the end of August over concerns about the Ebola outbreak.
The carrier normally operates a four-times-a-week service from Heathrow to Freetown in Sierra Leone, with a connection on to Monrovia in Liberia.
"We have temporarily suspended our flights to and from Liberia and Sierra Leone until August 31 2014 due to the deteriorating public health situation in both countries," BA said in a statement.
"The safety of our customers, crew and ground teams is always our top priority and we will keep the routes under constant review in the coming weeks.
"Customers with tickets on those routes are being offered a range of options including a full refund and the ability to rebook their flights to a later date."
Second American en route to US for treatment
A second American who contracted Ebola while caring for patients in West Africa is on her way to a US hospital for treatment.
A medical evacuation plane carrying Christian missionary Nancy Writebol left Liberia on Tuesday and was headed to Emory University Hospital in Atlanta, the same facility where American doctor Kent Brantly is being treated.
He was also sickened with the dangerous virus while taking care of patients in the Liberian capital. Brantly's arrival on Saturday marked the first time a patient with Ebola landed for treatment in the United States.
Tests continue on patient in New York
Meanwhile, doctors in New York are running tests on a patient who was hospitalised with high fever symptoms similar to those of Ebola, which include vomiting, diarrhoea, fever and sometime bleeding.
The man had recently travelled to West Africa.
"Odds are this is not Ebola. It's much more likely it's a much more common condition," said Mount Sinai Hospital president David Reich, noting that testing and confirmation with the CDC in Atlanta would take 48 to 72 hours.
The World Bank, meanwhile, has pledged up to $US200 million ($A216 million) to Guinea, Liberia and Sierra Leone to help those nations contain the outbreak.
Main developments
Following are the main developments since the worst-ever epidemic of the haemorrhagic fever Ebola emerged in west Africa at the start of the year, as measures to stem its spread are stepped up around the world.
-- MARCH 2014 --
- 22: Guinea identifies the Ebola virus as the source of a highly contagious epidemic raging through its southern forests, as the death toll rises to 59.
Experts had been unable to identify the disease, whose symptoms were first observed six weeks before, but scientists studying samples in the French city of Lyon confirmed it was Ebola.
- 27: Ebola spreads to Guinea's capital Conakry.
- 31: Liberia confirms two cases of the virus.
-- APRIL --
- 5: West African countries mobilise. Medical teams are deployed at Conakry airport.
- 8: The WHO says the Ebola outbreak is among the "most challenging" for health workers since the deadly disease first emerged four decades ago in Zaire, now the Democratic Republic of Congo.
-- MAY --
- 26: Sierra Leone confirms its first fatality.
-- JUNE --
- 21: The WHO says the recent rapid spread of Ebola in Sierra Leone, Liberia and Guinea has come in part because efforts to contain the deadly virus have been too relaxed.
- 23: The outbreak is now "out of control" with more than 60 outbreak hotspots across the three countries, the medical charity Doctors Without Borders says.
-- JULY --
- 3: The WHO says it expects the Ebola outbreak to continue for at least "several months".
- 25: The virus spreads to Africa's most populous country Nigeria, as a Liberian national dies in quarantine in Lagos. The country places its ports and airports on alert.
- 27: A woman suffering from the first confirmed case of Ebola in Sierra Leone's capital, Freetown, dies.
- 30: Doctors Without Borders warns there is a risk of Ebola spreading to other countries.
Liberia announces it is shutting all schools.
- 31: Sierra Leone declares a state of emergency.
-- AUGUST --
- 1: At a regional summit in Conakry, Sierra Leone, Guinea and Liberia announce a cross-border isolation zone around the epicentre of the outbreak.
- 4: Nigeria says that a doctor in Lagos who treated the Liberian victim of Ebola there has contracted the virus, the second confirmed case in sub-Saharan Africa's largest city.
Sierra Leone's leader Ernest Bai Koroma appeals to the country's people to fight together against the deadly epidemic. Businesses, bars and restaurants are closed.
- 5: The World Bank earmarks up to $200 million to help contain Ebola, as African leaders visit Washington for a US-Africa summit. The Liberian and Sierra Leonean leaders decide not to travel to the summit.
An American missionary who contracted Ebola while helping patients in Liberia is expected in Atlanta, three days after a doctor colleague was brought to the United States for treatment.
A New York hospital is also testing a man with symptoms of the virus, but doctors say that it is unlikely he has Ebola.
A Saudi man is admitted to hospital in the Red Sea city of Jeddah after showing symptoms of haemorrhagic fever upon his return from Sierra Leone.
- AFP