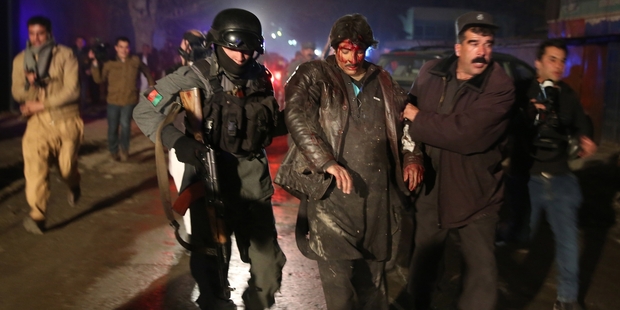 Afghan police officers help a man injured at the site of the explosion in Kabul. Photo / AP
A suicide bomber blew himself up outside a Kabul restaurant filled with foreigners and affluent Afghans, while two gunmen snuck in through the back door and opened fire in a brazen dinnertime attack that killed 16 people, officials say.
The fatalities included four United Nations personnel.
The Taleban claimed responsibility within an hour of the attack against La Taverna du Liban, part of a stepped-up campaign of violence against foreign and government interests.
The bombing served as a reminder that although militant violence in the capital had dropped off in recent months, insurgents remained capable of carrying out attacks inside the most heavily guarded areas.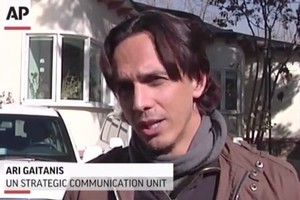 Security officials said the assault began with the suicide bomber detonating his explosives at the front door of the Lebanese restaurant, located in an area housing several embassies, non-governmental organisations and the homes and offices of Afghan officials.
As chaos ensued, the two other attackers entered through the kitchen and began shooting. They were later killed by security guards, said Interior Ministry spokesman Sediq Sediqi.
Kabul police chief General Mohammad Zahir Zahir said the 16 people killed were all inside the restaurant. He said foreigners and Afghans were among the dead, but he did not provide a breakdown.
Officials said at least four other people were wounded.
UN Secretary-General Ban Ki-moon said four UN personnel were among those killed.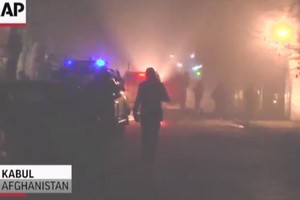 The International Monetary Fund's representative in Afghanistan, Wabel Abdallah, 60, of Lebanon, also was among those killed.
There have been several attacks in Kabul this month, including a suicide bicycle bombing of a bus carrying police that killed two people. The Taleban have increased their attacks in recent months after foreign forces handed over control of security for the country to the Afghan army and police. Foreign forces are scheduled to leave the country by the end of this year.
A security agreement that would keep about 10,000 US troops and about 6000 from allied nations past 2014 has been stymied by President Hamid Karzai's refusal to sign it until Afghans elect his successor in the April 5 elections. The deal is seen as crucial to train and mentor the nascent Afghan security forces, which now number about 350,000. If the deal falls through, the US has said it will pull all its forces out.
- AP