Movie blogger Dominic Corry looks at five films given the straight-to-DVD treatment in New Zealand and decides whether they deserved better.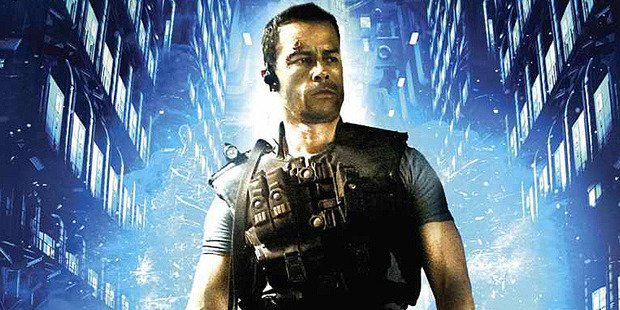 It's a simple fact of life that many would-be blockbusters bypass cinemas in New Zealand and are released straight on to DVD and Bluray. This doesn't always necessarily mean the films in question are bad, but it's no guarantee of quality either.
In this blog entry I am going to look at five relatively high-profile recent films that received a theatrical release in the US, but for one reason or another went straight to DVD in this country. Did they deserve a shot in New Zealand theatres?
Premium Rush has all the hallmarks of a nice shiny new mainstream studio movie - an emerging star in the form of lead Joseph Gordon-Levitt; a marketable high concept (Speed on a bicycle) and solid talent behind the camera in the form of David Koepp, a highly prolific and successful screenwriter (Jurassic Park; Panic Room; Spider-Man; War of the Worlds) who, as in this case, occasionally directs his own screenplays (The Trigger Effect; Secret Window; Ghost Town).
But despite all these elements being in place, the film failed to achieve breakout success at the box office and local distributors chose not to invest in a theatrical release.
Gordon-Levitt plays Wilee, a New York bike messenger who graduated law school but never took the bar exam because when he sees someone his age in a suit it makes his balls shrivel up inside his abdomen. You see, he likes to ride. Those are both quotes from the movie.
After picking up an envelope with the titular designation, Wilee finds himself pursued through the streets of Manhattan by a corrupt cop played by Zod himself, Michael Shannon, whose character first introduces himself to Wilee as "Forrest J. Ackerman". If Wilee was more of a nerd, he would've known then it was a fake name.
For the most part, Premium Rush executes its potentially silly concept with endearing confidence. It's a lean-but-in-no-way-mean action thriller that never really lagged for me.
Gordon-Levitt makes for a good beleagured action lead, and elements of the film favourably recall the 1988 action masterpiece Midnight Run.
The Google Earth-ish zooms in and out are better executed here than in most films and they help establish a clear geography. Street level action is an increasingly obscure artform these days, but Premium Rush displays a consistently agile physicality that I really enjoyed. Even if it was all bicycle-centric.
Plus there's some nifty visual stuff with how Wilee plans his route while zooming along that recalls the fight scene 'precognition' in the Robert Downey Jr. Sherlock Holmes movies.
As fun a watch as it was though, Premium Rush did cause me to have a long hard think about whether or not flash mobs have any business being in an action movie.
Did Premium Rush deserve a theatrical release in NZ? I would've paid money to see this in a theatre, but don't think anybody suffered too greatly from it not having a run in cinemas.
French director Luc Besson achieved great success when he produced and co-wrote 2008's action hit Taken, a slick re-mounting of many familiar tropes from American movies. He applies the same model to the sci-fi action genre with his latest film as writer/producer, Lockout, starring Guy Pearce as a framed-for-murder future law man tasked with rescuing the American President's daughter (Taken's Maggie Grace) from a maximum secuirty prison located on the freaking moon.
The spectre of John Carpenter (and especially his 1981 cult classic Escape From New York) hangs all over Lockout - it takes innumerable tonal and situational cues from Carpenter's film, especially in its wise-cracking and world-weary lead character Snow, a clear riff on Kurt Russell's Snake Plissken from Guy Pearce.
I enjoyed Lockout quite a bit. There's some ropey CGI and the film rarely makes sense, but it was always fun and evoked the spirit of '80s sci-fi action with flair.
At a glance this film looks like classic direct-to-video dreck, but it's better than that. The European and American theatrical releases clearly didn't go to plan however, as it wasn't enough of a hit to warrant a theatrical run in New Zealand.
Did Lockout deserve a theatrical release in NZ? Heck yes! It would've been great fun to see this in a theatre with a crowd of old school action movie lovers.
The Apparition got some attention during production due to it starring breakout supporting players from the Twilight and Harry Potter franchises.
Tom Felton (HP's Draco Malfoy) plays a student who unleashes a malevolent spirit while conducting a university experiment that involves trying to contact the dead. Ashley Greene (Twilight's Alice) plays a young woman with no apparent connection to the experiment whose home life with her boyfriend (Captain America's Sebastian Stan) comes under attack from the spirit.
The Apparition was apparently a burden on its distributor Warner Bros., who gave it a limited theatrical release in America before shunting it out on DVD globally. It's a fate befitting the movie's mediocre ambitions - there is very little here we haven't seen a hundred times before, and the cast isn't good enough to make it interesting.
The one ostensible 'surprise' in the film is glaringly obvious from the get-go, and aside from that we are witness to the usual collection of ominous shadows and J-Horror-derived imagery. Very average studio horror.
Did The Apparition deserve a theatrical release in NZ? No. It's pretty cruddy.
Although it bears an even more generic title than The Apparition, The Possession, another new studio horror, is the slightly better film of the two.
However, it nevertheless didn't live up to the slightly elevated expectations I developed due to the presence of horror maestro Sam Raimi as a producer.
Watchmen and Magic City star Jeffrey Dean Morgan stars as a divorced basketball coach whose younger daughter starts acting all weird after she acquires an old box from a garage sale. The item is eventually revealed to be a dybbuk box, which in Jewish folklore is said to contain an evil spirit.
It's put together with a little more grit and menace than The Apparition, but aside from the mildly diverting orthodox Jewish angle, The Posession fails to distinguish itself.
Aswell as taking far too much inspiration from The Exorcist (like we don't have enough films already ripping off that classic), we are also yet again subjected to a string of ghoulish set-pieces that recall classic J-Horror tropes. Both The Possession AND The Apparition feature key The Grudge-esque scenes in which a filthy ghostly hand emerges from a main character. And both instances are on each movie's poster. Yeesh.
Although, if you've always wanted to see Hasidic pop sensation Matisyahu perform an exorcism, then don't miss The Possession. It also happens to be the most vehemently anti-garage sale film this side of Second Hand Honeymoon.
Did The Possession deserve a theatrical release in NZ? Nah. It might've played better in a theatre, but it wasn't interesting enough to make me really wonder.
A Very Harold & Kumar Christmas was released during the 2011 Christmas season in Europe and the States. As best I can tell (the IMDb states otherwise), it skipped a New Zealand theatrical run and was then released on DVD here a whole year later during the 2012 Christmas season.
The very premise of Christmas movies is off-putting, but I absolutely loved A Very Harold & Kumar Christmas, the third film in the franchise about two stoner pals and their surreal, Neil Patrick Harris-laden escapades.
The plot of the new film is a little more grounded than the previous entry - Harold & Kumar Escape From Guantanamo Bay - which was nonetheless also pretty great. When we check in on the boys this time around, they've been estranged for years and each have new best friends. But fate (in the form of an oversized joint) brings them back together and before long they're off on another fun-filled flight of fancy.
All three films in this series are hugely likable, and this entry schools awful recent party movies like 21 & Over and Project X in the art of cinematic excess. I really should've included Harold and Kumar in my recent blog about the best party movies ever.
Every running gag gets a call-back, and the requisite Neil Patrick Harris cameo scales new heights of awesomeness. Plus it's a genuine treat seeing John Cho play against Danny Trejo. Those two should do a buddy movie.
Did A Very Harold & Kumar Christmas deserve a theatrical release in NZ? I say yes. This is a comedy that speaks directly to its fans - it would've been awesome to see it with a crowd. Amazingly, most of the endless 3D gags actually work. It would've been nice to behold them in a theatre, projected in their intended dimension.
Would you have preferred to have seen any of these in a theatre? Do you get angry when studio-mounted films go straight to DVD in this country? Flash mobs in action movies? Yes? No? I'm leaning toward the latter. Comment below!