Four weeks of over-the-top partying – that's Mad March in Adelaide, writes Henry Porter.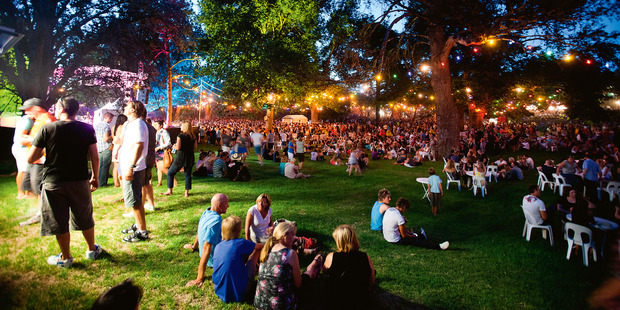 The South Australian capital is fast becoming famous for four weeks of over-the-top partying - the month known as 'Mad March' when five gigantic arts and entertainment events butt up against two massive sporting extravaganzas.
Black-tie arts events run in parallel with a black T-shirt V8 car race; street performers play among street parties; comedy acts are next door to cabaret shows; you'll hear opera across the road from open-air theatre. There are pop-up bars, pop-up venues, pop-up food vans and pop-up performances.
Summer in the city is time for the Adelaide Festival, a two-yearly beast of arts, culture and everything in between. Under its umbrella is the Writers' Week, Artists' Week, Adelaide International and the Australian Biennial of Australian Art. Alongside are the Fringe Festival, Cabaret Festival and the celebration of world music catchily run into the one-word title, WOMADelaide.
ADELAIDE FESTIVAL
February 28-March 16, 2014
Considered one of the world's largest celebrations of the arts community, it has delighted audiences for more than 50 years with internationally acclaimed theatre productions, opera, musicians, breathtaking dance, renowned writers and striking visual arts displays. It is made up of numerous performances and exhibitions at venues across the city. Writers' Week is designed to help inspire and develop writers' talent: the 2014 event is dedicated to exploring secret histories. Writers, guest speakers and workshop attendees will explore secrets from relationships to the British royal family.
FRINGE FESTIVAL
February 14-March 16, 2014
The largest Fringe Festival in the southern hemisphere offers quirky fun and frivolity including the International Buskers Festival and the Fringe Family Weekend. It traditionally begins with an opening night party in the city centre, allowing thousands of people to sample the theatre, street entertainers and buzzing atmosphere of the event. Anyone with a show, exhibition or cultural event is able to register. The result is one of the most diverse arts festivals in the world: 900 events in popup venues from parks to warehouses, lanes and empty buildings, spanning cabaret, comedy, circus, dance, film, theatre, puppetry, music, visual art and design.
WOMADelaide
March 7-March 10, 2014
The Australian festival of World Music and Dance kicked off in 1992. Over two decades it has become one of the nation's favourite outdoor festivals, for its unique and extraordinary music and its beautiful and friendly vibe. Running over four days in Botanic Park in inner-city Adelaide, the programme features the world's best traditional and contemporary musicians, dancers and DJs, Taste the World cooking, The Planet Talks environmental discussions and retail and charity stalls. The only artist named so far is Billy Bragg, the British singer-songwriter, author and political activist.
ADELAIDE CUP
March 10, 2014
Much more than a horse race, this is one of the biggest events of the year for many South Australians. As with the Melbourne or Auckland Cups, racegoers dress up in their best outfits, watch or are chosen to take part in fashion shows, listen to live music, and socialise with celebrity guests. Marquees are set up near the track where guests can indulge in gourmet food and drink.
CLIPSAL 500
February 27-March 2, 2014
... which must be just about as far from the opera and orchestras of the Adelaide Festival as you can get. Legendary motor-racing commentator Murray Walker reckons the downtown street circuit hosts the greatest tintop car race in the world. Held since 1999 it's the traditional season-opener, consisting of two 250 km races run on Saturday and Sunday. The event has been labelled the most physically demanding by the drivers, due to the length of each race, the circuit and the heat. It attracts crowds of over 250,000 people - and each night after the racing they party into the small hours at four massive after-race concerts.
Lonely Planet recently listed Adelaide as one of the Top 10 cities to visit in 2014, it is a beautiful city - and particularly feels so at Festival time, when you can appreciate its grid of orderly and walkable streets lined with elegant architecture (yes, churches included), the council's efforts to re-energise its interesting spaces, and the gorgeous sunshine that's typical of summer in the city. Not only that, but it's one of those rare places that's close to both beaches and wineries. Which brings on another nickname - it's known as the '20-minute city' because you're never more than a 20-minute drive from any of the aforementioned.
IF YOU GO
Getting there: Fly there with Air New Zealand.
Find out more at: Australia.com.
For more information visit: myaustraliapassion.co.nz.