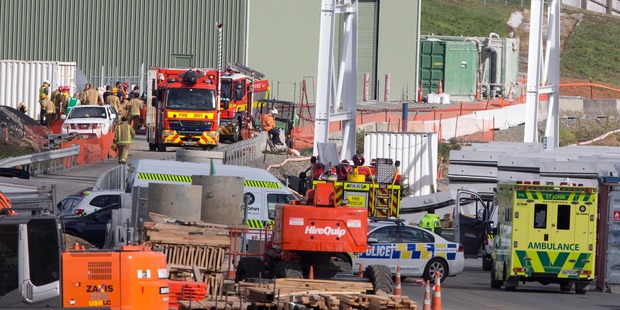 Residents were allowed back into their Auckland homes after a hydrochloric acid spill this morning cleared parts of New Windsor, Mt Albert and Blockhouse Bay.
People were told to stay inside with windows closed and a cordon was put in place about 7am after a forklift driver punctured a drum of acid this morning.
The cordon was removed six hours later after emergency services gave the all-clear after the spill at at the Waterview Connection construction site.
A cloud of toxic fumes drifted southwest over Methuen Road, Batkin Road, Bollard Ave and New Windsor Road.
Eve Ragen rushed from her Valonia Road home inside the cordon with a jersey thrown over her 10-month old daughter to protect her from the fumes after hearing what had happened about 7am.
Mrs Ragen was angry about the lack of communication from emergency services throughout the morning.
She didn't hear about the chemical spill until she was outside her front door and heard a policeman through a loud hailer telling a neighbour to get back inside and shut the door. She then checked online news services and read about what was going on and decided it was best to leave the area entirely.
"It wouldn't have taken that long for the police to quickly whip down our road and knock on doors and tell us what happened,'' she said.
Her husband went to work early and took the family dog with him to make sure their pet wasn't harmed by the fumes either.
A Methuen Road resident, who did not want to be named, said when he heard about the spill he left work early to go home to check on his wife and child.
But he found the area had been cordoned off.
"I've been waiting for about 45 minutes. I'm not going back to work until I know they are all right,'' he said.
Work resumed at the Waterview Connection and the New Zealand Transport Agency and Work Safe NZ were carrying out investigations.
- APNZ