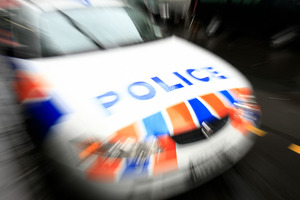 A woman almost killed when she was dragged 60m behind a vehicle in South Auckland was not the victim of a hit-and-run as first suspected.
The 20-year-old was found bleeding and injured in the middle of Stonex Rd, Papatoetoe, about 2.35am on September 11. She was taken to Middlemore Hospital with critical injuries including a broken pelvis, broken femur and head injuries. She also suffered significant grazing, requiring skin grafts.
Police initially thought the woman had been hit and dragged by a car. But after a scene examination, police established there was no "point of impact".
They still believe she was dragged after her handbag became snagged on the back of a vehicle.
Counties Manukau police spokeswoman Kimberley Matthews told the Weekend Herald the woman had no memory of the incident.
"We feel quite confident she wasn't hit, but she was definitely dragged," she said.
"She may have been hooked on something, like a tow bar, and been dragged. We believe the bag may have been stuck or hooked onto the vehicle that was involved in this incident and that she was dragged from point A to point B on Stonex Rd before getting free of the bag.
"It is entirely possible the driver was not aware of her being attached to the vehicle, particularly if it was a large, heavy vehicle."
Ms Matthews said finding the bag was crucial to the investigation. It would help police track the vehicle and give them a clearer picture of what happened to the woman.
"We would like to hear from anyone who picked the bag or any items out of it up off the street. We'd like to make it clear that any person who comes forward with information about the bag will not get in trouble for taking the bag or doing anything with its contents - we would like to know where exactly it was found."
It is described as a large faded purple bag with a surf brand label. It contained clothing, cellphones, toiletries, jewellery, bank cards and photos.
Ms Matthews said it might be in the areas of East Tamaki Rd, Great South Rd, Mangere Rd and Favona Rd.
"Finding this bag, wherever it may have ended up, will greatly assist police inquiries in this case and help us come to the right conclusion."
The 20-year-old remains in hospital "in good spirits". Her fractures are healing, but she faces a lengthy skin-grafting process.
Key evidence
Police are looking for a large faded purple bag that contained:
• Grey tracksuit pants
• Black tights
• Three-pack of socks
• Red dress
• Purple and black Alpha men's undies
• Blue singlet with "Phili" in red writing on the front
• Two Nokia cellphones
• Toiletries
• Jade ring, 8ct gold ring, necklace, silver chain necklace
• Small bag with fish on the front
• Two ID cards and two community services cards
• ANZ personalised bank card with photo of two toddlers
• Hunters Plaza receipt
Can you help? If you know what happened to the woman or where police can find her bag or any of its contents, telephone Detective Kate Smith on 021-191-0894 or contact Crimestoppers anonymously on 0800-555-111.