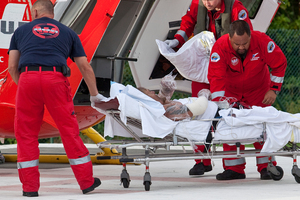 A 50-year-old Warkworth man suffered burns to much of his body after a backyard fire exploded.
A Fire Service spokesman said the injured man might have been pouring petrol on to an outdoor fire when the accident happened.
The incident happened at 5pm yesterday at the rear of a Hudson Rd property near State Highway 1, in an industrial area of Warkworth.
The man was flown by Westpac Rescue Helicopter to Auckland's Middlemore Hospital. An ambulance spokesman said the man was in a serious condition upon arrival.
He had suffered burns to 18 per cent of his body.