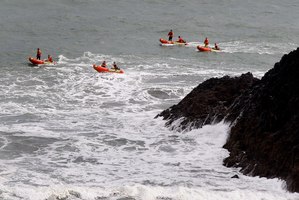 The brother of an instructor who died after being swept off Taranaki's Paritutu Rock into the sea, says he is not angry with the company his brother worked for.
The Taranaki Outdoor Pursuits and Education Centre (Topec) has been charged over the rock-climbing deaths of 42-year-old Bryce Jourdain and 17-year-old Spotswood College students Stephen Kahukaka-Gedye and Joao Felipe Martins De Melo.
The Ministry of Business, Innovation and Employment's (MBIE) Health and Safety group laid four charges in the New Plymouth District Court today alleging the centre failed in its safety obligations to its employees and students.
Mr Jourdain's brother Craig said he had no anger towards Topec for what happened, and he felt "what the Labour Department needs to do, they need to do.''
He said it was a "fantastic organisation''.
"I hope this doesn't stop them from operating in the future.''
Mr Jourdain assumed they would need to make some changes in future depending on the outcome of the hearing.
Bryce Jourdain's wife Robyn said the death of her husband was an ``unbelievable tragedy''.
"Today's announcement by the Ministry of Business, Innovation & Employment is part of the process that needs to be followed, in order to find out what went so tragically wrong on that fateful day, Wednesday 8 August 2012.
"As a family, we continue to take life one day at a time and look after each other.''
Ms Jourdain thanked the New Plymouth community for the love it has shown towards their children, Isaac, 12 and Grace, 10.
"Six months may have already passed, but our Bryce remains our rock. We love you.''
Detective Senior Sergeant Grant Coward said police had conducted a "long, thorough and detailed investigation'' into the tragedy and had concluded there was no criminal culpability on any person or organisation.
The matter would be referred to the Coroner, he said.
The students drowned when they were swept into the sea on an outing in bad weather.
Mr Jourdain dived into the water to try to save the students, but also died.
The charges have been laid under Sections 6, 15 and 16, with a maximum penalty $250,000; and Section 50, with a maximum penalty $500,000.
A ministry spokesman would not say why no charges had been laid over the boys' deaths and said now the case was before the court, they would not comment further.
Topec Board chairman David Grigg said the organisation had not yet received the completed report by MBIE, nor had it received full disclosure from the Ministry in relation to any of the charges.
"We understand there is vast documentation to go through and the matter is now in the hands of our lawyer Kylie Pascoe. In light of the matter being before the court it would be inappropriate to comment any further at this time.
"Our thoughts and prayers remain with the families and friends of Felipe, Stephen and Bryce and all those that are affected by these events.''
The charges:
* failing to take all practicable steps to ensure the safety of its employee Mr Jourdain
* failing to take all practicable steps to ensure that a volunteer instructor from Germany was not exposed to hazards of high and powerful seas in his place of work
* failing to take all practicable steps to ensure that no action or inaction of its employee while at work harmed any other person
* as a person who controlled a place of work failing to take all practicable steps to ensure that no hazard that arose in the place of work - high and powerful seas - harmed people who were in the place with their express consent and who had paid to undertake an activity there.
- APNZ